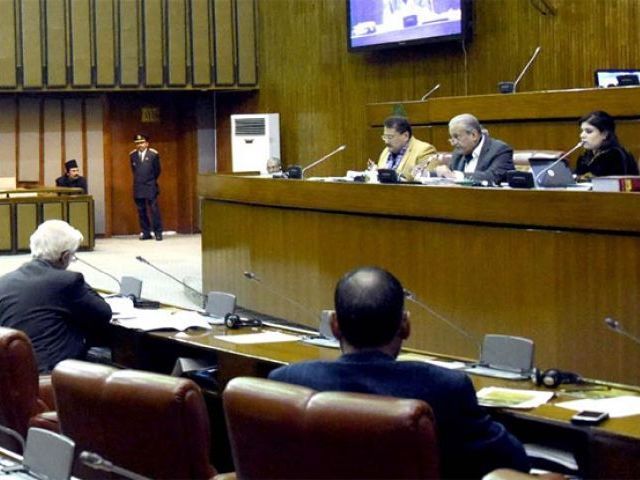 ---
ISLAMABAD: To rein in big money and discourage floor crossing, a Senate panel has unanimously adopted a set of recommendations conferring on political parties the right to verify if any of their National Assembly or provincial assembly members voted against the party for financial gain.

Some nine recommendations adopted by the Senate Committee of the Whole – that will be tabled before the house on Friday (today) for a vote of approval – provide mentioning names of members of provincial assemblies and National Assembly, who form the Electoral College for Senate elections, on ballot papers.

Through addition of a sub-clause to Article 226 of the Constitution, political parties' parliamentary leaders will be able to verify who voted for whom by making a request to the competent authority to show the ballot paper after declaration of results.

The committee suggested that in Article 63(a) of the constitution pertaining to disqualification of members of parliament, it may be added that anyone voting against the party lines may be de-seated.

"This will largely curb the tendency of floor crossing/voting in favour of a candidate against the party lines by taking financial benefits," committee observed in its report.

However, the Senate Committee of the Whole rebuffed the idea of direct elections to choose senators, concluding the existing mode of elections, that is indirect election, was in line with the basics of the Constitution of 1973.

"Any amendment to convert the mode of elections from indirect to direct elections will be against the basic structure of the Constitution…. Indirect elections ensure adequate representations to all federating units," reads the recommendation.

During previous meetings of the committee some of the legislators had suggested to adopt direct election system to give permanent end to floor crossing and vote for money.

Debate regarding mode of senate elections – revolving around two main points including either members of the House shall be elected directly or indirectly and rigging and floor crossing in the electioneering process – was initiated after some senators were alleged to buy votes of the provincial assembly members to get themselves elected to the upper house during the March 2015 Senate elections.

The Senate's House Business Advisory Committee took up the matter and suggested to form a 'Committee of the Whole' for in-depth discussion over the issue. All 104-senators are members of this committee, while chairman Senate Mian Raza Rabbani as its head.

The committee held three well-debated meetings before finalising and unanimously adopting these nine recommendations, while some 37 senators out of 104 expressed their opinion over the matter.

Published in The Express Tribune, May 20th, 2016.
COMMENTS
Comments are moderated and generally will be posted if they are on-topic and not abusive.
For more information, please see our Comments FAQ