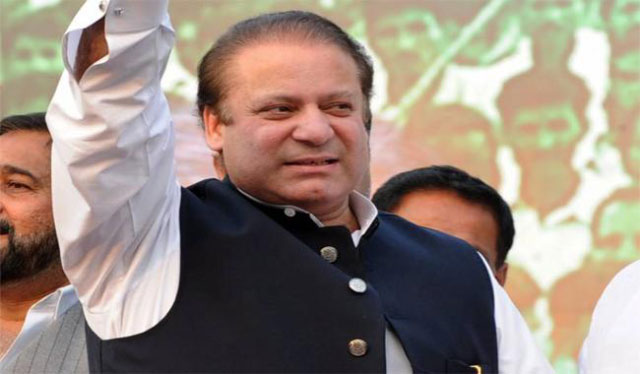 ---
Prime Minister Nawaz Sharif on Thursday performed groundbreaking of Pakistan-China Optical Fibre Cable project, which is a part of the China-Pakistan Economic Corridor (CPEC).

The Optical Fibre Cable project, costing $44 million will be completed in two years and Special Communication Organisation (SCO) will lay 820-kilometre-long cable from Rawalpindi to Khunjrab, according to Radio Pakistan.

On completion the project will provide an alternate telecommunication route between Pakistan and China. Earlier, the prime minister also administered oath of the newly elected members of the G-B council.

DI Khan visit: PM lampoons Imran over 'Naya Pakistan' claim

Further, the prime minister announced setting up of a technical training institute with Rs100 million for capacity building in the region.

CPEC patrolling police HQ inaugurated

The prime minister also inaugurated the CPEC patrolling police headquarters in Gilgit-Baltistan (G-B).

The patrolling force comprising 300 personnel and 25 vehicles, which have been gifted by China, will help ensure safe and smooth flow of traffic on the 439-kilometre chunk of the CPEC project in G-B,

Nawaz administers oath to newly elected members of G-B council

Meanwhile, the prime minister administered oath to the newly elected members of G-B Council.

Panama leaks scandal: PM Nawaz fobs off opposition's barrage

Later, addressing a ceremony the prime minister said CPEC project will bring enormous gains to G-B. "Some people say Nawaz Sharif is only constructing roads. Constructing roads is not a crime as progress cannot be achieved without construction of highways. Those who opposed the motorway projects now use them to travel across the country," PM Nawaz said.

The prime minister further announced Rs200 million for the development of Karakoram International University.

Earlier, on arrival, the prime minister was received by G-B Governor Mir Ghazanfar Ali Khan and Chief Minister Hafiz Hafeez-ur-Rehman.

On Tuesday, renovation work started on the dilapidated roads of Gilgit city to prepare for the premier's scheduled visit. Officials of the works department initiated the task from Jutial by carpeting the damaged roads. Markets were also cleaned and speed breakers were painted to give Gilgit a facelift.

Gilgit gets facelift ahead of PM Nawaz Sharif's visit

Tanvir Ahmed, a local journalist, said, "I wish the prime minister pays frequent visits to the region so that our city and roads are in a better condition." The last time repair work was carried out in Gilgit, the capital city, was in 2012 when former prime minister Raja Pervaiz Ashraf visited the region.
COMMENTS (9)
Comments are moderated and generally will be posted if they are on-topic and not abusive.
For more information, please see our Comments FAQ