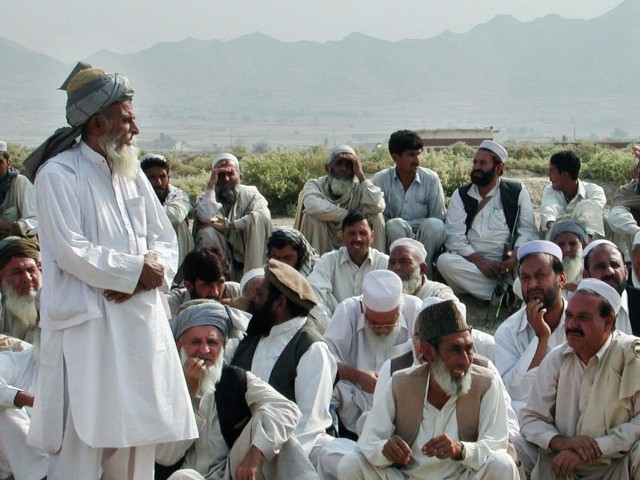 ---
GILGIT: As a potential clash was looming large over a strip of land near Diamer-Bhasha Dam, top cleric Qazi Nisar on Sunday brokered a truce between tribes in Kohistan and Chilas.

The cleric was invited by a jirga in Diamer as he wielded much influence over people living in Diamer and Kohistan, said Mehtab Khan, a resident of Chilas.

Nisar reached Chilas town from Gilgit on Saturday and discussed the issue with the Diamer jirga members before moving onto Harban area in Kohistan. The cleric, who was accompanied by a dozen others from Gilgit, took gifts as part of the local culture and tradition.

"The good news is that a truce has been brokered by Qazi Nisar," Qasim Khan, another local privy to the development, told The Express Tribune. "There will be no violence in the near future. In February 2014, five people lost their lives and several others were injured in armed clashes between the two tribes."

According to Qasim, the cleric and his team will stay in Chilas for a couple of days to ensure the truce is truly implemented.

Inaction, consequences

The boundary commission constituted by the federal government has so far remained unsuccessful in settling the dispute.

Personnel of the Frontier Constabulary have been deployed on the disputed territory as elders from Thore threatened to halt work on the dam till the issue is settled.

The nearly 10-kilometre stretch of land on both sides of Basari check post, which separates Kohistan from G-B, has long been a bone of contention between people of Thore Valley in Diamer and Harban Nala in Kohistan. The disputed land is among the areas being demarcated for acquisition for the much-awaited dam.

The issue resurrected over the past two weeks after people realised government was not resolving it. As a result, the tribes from both sides gathered on the roads, warning authorities concerned of dire consequences if a solution was not found soon.

Published in The Express Tribune, May 16th, 2016.