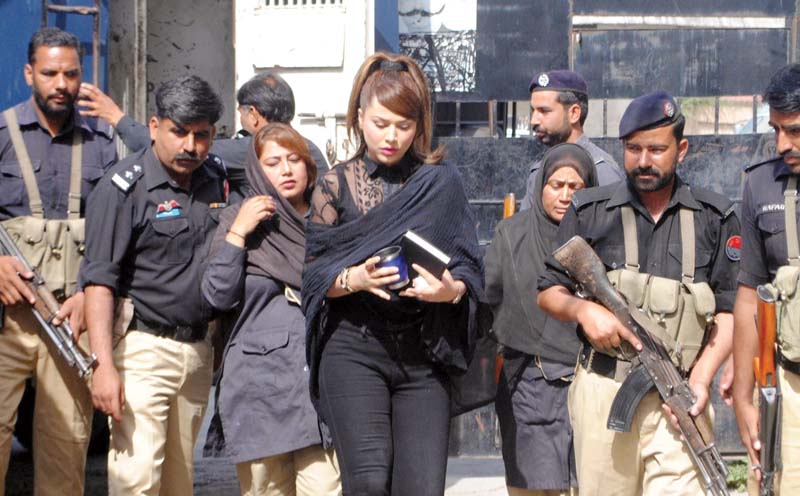 ---
ISLAMABAD: The widow of a slain customs inspector who would have been a key prosecution witness in the money laundering case against Ayyan Ali has stated that the fashion model was responsible for the murder.

Saima Ejaz, the widow of Customs Inspector Chaudhry Ejaz Mahmood, on Saturday stated that Ali was responsible for murder of her husband and her name needed to be put on the Exit Control List. She further said that the police needed to investigate Ali in the murder case.

SC asks Ayyan to approach SHC for removal of name from ECL

Inspector Ejaz was shot and injured by two unidentified men outside his house in the Waris Khan area on June 2 2015. He died two days later.

The Waris Khan police recorded Ejaz's statement on Saturday on the direction of a District and Sessions Judge Khalid Naveed.

In here statement, a copy of which is available with The Express Tribune, Saima said that her husband was in charge of the PIA cargo air freight unit (AFU) state warehouse at Benazir Bhutto International Airport in 2015. She said her husband was the person that took official custody of the currency recovered from Ali in March 2015.

Ejaz told the police that Mahmood told her that he was under a lot of pressure due to his association with the high-profile case.

She claimed that her husband told her that some men, who she could not identify, had been telling him to make false entries in the official record to protect Ali or weaken the case against her.

She said Mahmood had told her that the callers had threatened to kill him if he failed to follow their instructions.

Ejaz further said that she had repeatedly approached the Waris Khan police to get her statement recorded, but the police were unwilling to do so.

Contempt petition: Comments sought in Ayyan Ali case

She then moved the court through her lawyer Advocate Haseeb Ahmed. The court ordered the police to record her statement.

Mahmood's brother Chaudhry Riaz Afzal also recorded his statement before the police. He said that his brother was shot in the leg and that the doctors at Benazir Bhutto Hospital assured him that Mahmood was out of danger.

Later, he said, doctors took his brother to the operation theatre at the request of some customs officials. He said that he was informed that the operation had been successful and he just needed to arrange for blood.

He claimed that two days later, on June 4, doctors told him that his brother had died. He added that the Waris Khan police had initially written up the incident as an attempted robbery and registered murder case against two unidentified robbers.

He repeated his sister-in-law's allegation that Ali and her unidentified accomplices were responsible for the death of the inspector.
COMMENTS (17)
Comments are moderated and generally will be posted if they are on-topic and not abusive.
For more information, please see our Comments FAQ