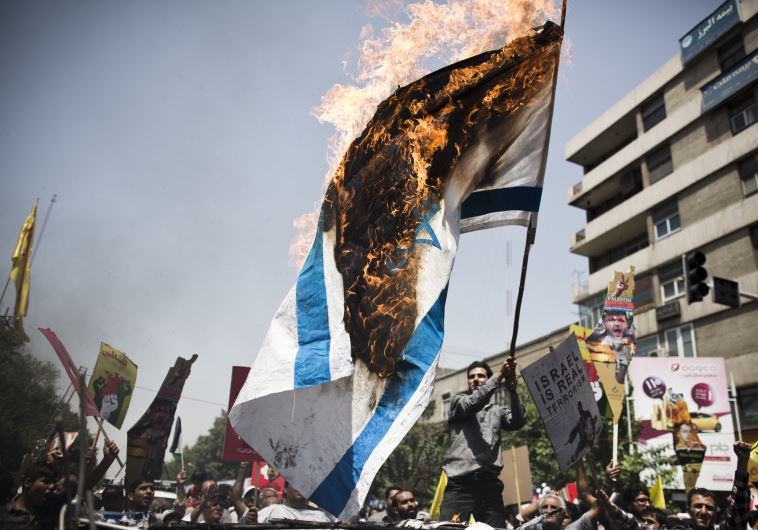 ---
TEHRAN: A contest of anti-Israeli cartoons opened Saturday in the Iranian capital, with many entries deriding Prime Minister Benjamin Netanyahu and his government's Middle East policies.

The exhibition, totalling 150 entries from 50 countries, was launched on the eve of the Palestinian commemoration of "nakba", which means catastrophe in Arabic, marking the 1948 creation of Israel.

The Iranian government has distanced itself from the contest, which Foreign Minister Mohammad Javad Zarif said was organised by a non-governmental organisation without any support from the authorities.

Several cartoons on display poke fun at Netanyahu, with one depicting the Israeli prime minister as a member of the Islamic State jihadist group and holding a sabre in his hand.

Another shows a map of the Middle East with a coffin bearing the word "Holocaust" flattening Palestinians in place of what should be the country of Israel.

Jordan halts Jerusalem Al-Aqsa cameras project

"We are not seeking to confirm or deny the Holocaust," said organiser Massoud Shojaie Tabatabaie, himself a cartoonist.

He said the exhibition was a rebuttal to the publication of cartoons depicting the Prophet Mohammed by French satirical weekly Charlie Hebdo, which was attacked by extremists last year.

The best cartoon will be awarded $12,000, said Tabatabaie. An earlier edition of the exhibition was held in 2006.

In April Zarif insisted that the cartoon festival was not endorsed by the Iranian government, in an interview published by The New Yorker magazine.

He said the contest was being organised by a non-government organisation "that is not controlled by the Iranian government. Nor is it endorsed by the Iranian government."

Asked why Iran has allowed the exhibition to go ahead, Zarif said: "Why does the United States have the Ku Klux Klan?

"Is the government of the United States responsible for the fact that there are racially hateful organisations in the United States? Don't consider Iran a monolith. The Iranian government does not support, nor does it organise, any cartoon festival of the nature that you're talking about."

Israel marked Holocaust Remembrance Day earlier this month as well as the 68th anniversary of its foundation.

Last year Tabatabaie also organised an international exhibition of anti-Islamic State group cartoons in which caricatures of Arab and Western leaders were displayed besides those of top militants.
COMMENTS (1)
Comments are moderated and generally will be posted if they are on-topic and not abusive.
For more information, please see our Comments FAQ