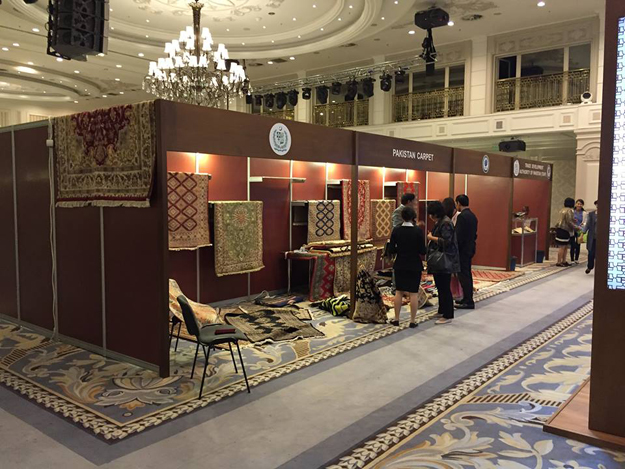 ---
ISLAMABAD: Pakistan's Trade Caravan opened at Almaty Kazakhstan on Friday, aimed at fostering trade and investment relations between Pakistan and Kazakhstan.

About 45 companies from sectors including textile, agro food, herbal, pharmaceutical and handicrafts displayed their products to members of Kazakh Chambers and businessmen.

The Trade Development Authority of Pakistan (TDAP) also had a large composite stall with the highest quality home textile, garments and sports products that had been provided by brands such as ChenOne, Gul Ahmed, Sapphire and AlKaram.

PM to embark on two-day visit to Kazakhstan on Tuesday

It was noted that the existing trade potential was not reflective of the bilateral relations between the two countries. Despite strong trade complementarities, the bilateral trade between the two nations amount to only $34 million.

Despite strong brotherly relations and similar religious inclinations, the major impediment in trade was the low level of interaction between people of the two countries.

In order to increase this interaction and trust between the businessmen of two countries, TDAP initiated the concept of 'Pakistan Trade Caravan' which was largely appreciated by the visiting participants.

The Trade Caravan initiative is the first step in the beginning of long-term commercial relations between the two countries. The road show branding reflected this legacy of trade caravans crossing from country to country in search of mutual economic benefit.

During the event, some 300 Kazakh companies took part in business-to-business (B2B) sessions with their Pakistani counterparts.

Companies such as TurnikKz, Radiance, Dest Textile FirmKaz centre expressed strong interest in textile, leather and sports.

According to Hosiery Manufacturers Association President Dr Khurram Tariq, the event paved way for Pakistan's entry into an unrecognised but strong regional market. "From the public side, interest was also shown in herbal products from Marhaba Company; half of them were sold out on first day."

The TDAP also took along Pakistani Urdu dramas, dubbed in Russian language for sale in the media and entertainment industry.

Following the success of the event, the USAID regional office now also seeks exhibitor and TDAP interest in participation in the Central Asian Trade Forum, scheduled to be held in Almaty in September this year.

The Pakistan Trade Caravan at Almaty will continue till May 15.

Published in The Express Tribune, May 14th, 2016.

Like Business on Facebook, follow @TribuneBiz on Twitter to stay informed and join in the conversation.