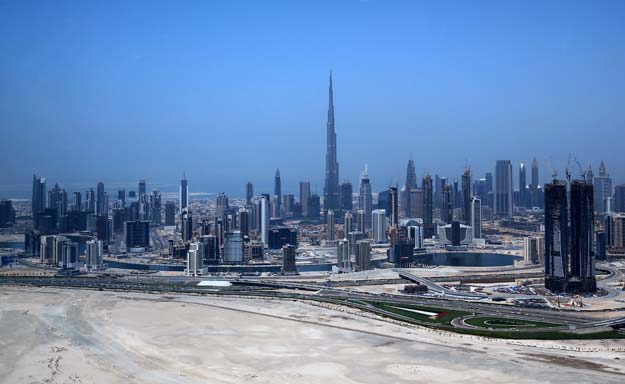 ---
DUBAI: For more than 10 years Dubai property prices have been on a roller coaster, creating and wiping out fortunes, but recently they appear to have run out of steam.

The Gulf emirate shot to prominence as an attractive real estate market after opening up special freehold zones for foreign buyers in 2002.

Prices peaked in 2008, driven mainly by speculative investments, but later nosedived as finances dried up because of the global financial crisis, shedding half the sector's value.

Dubai developers keep building despite weak market and echoes of 2008




Renewed demand boosted values and rents at breakneck speed between 2012 and 2014, stirring fears of yet another bubble until prices headed south again, though more slowly this time.

Last year prices fell by an average of 12 per cent, according to Craig Plumb, head of MENA research at property consultancy Jones Lang LaSalle.

"The market is having something of a soft landing at the moment, so the prices have been now falling for over a year... We think the market will continue to drop a little bit more, but not as much as it already has," he said.

"We think that most of the decline we've already seen."




Dana Salbak, head of MENA research at Knight Frank property consultancy, put the 2015 drop in residential prices at 10 per cent.

"We saw a slowdown in the residential sector. We saw prices dip about 10 per cent over 2015. Not so much in the first quarter of the year," she said.

Dubai's market is driven by overseas demand which has fallen as currencies weakened against the US dollar to which the UAE dirham is pegged, pushing up prices, Plumb said.




"Real estate in Dubai is now more expensive for buyers holding other currencies," Knight Frank said in its 2015 report.

Indians top the list of foreign investors in Dubai property. In 2015, they spent more than 20 billion dirhams ($5.4 billion) out of a total of 135 billion dirhams.

Pakistanis not among UAE's top spenders

British and Pakistani buyers followed with 10.8 billion dirhams and 8.4 billion dirhams respectively. Iranians spent 4.6 billion dirhams, Canadians 3.7 billion dirhams and Russians 2.7 billion dirhams.




The Indian rupee, the euro and the Russian ruble have all dropped significantly against the dollar.

Dubai property has also been affected by a slowing economy that has created fewer jobs, which in turn means not as many people arriving to demand housing, Plumb said.

And although its economy does not rely on Dubai's dwindling resources of oil, the plunge in oil revenues for the UAE and other Gulf states has exerted indirect pressure.




The drop in oil prices and the economic slowdown have "impacted investors' sentiment, their willingness and appetite to invest", said Salbak. "They adopted a cautionary approach."

But a collapse like the 2009 crash is probably not on the cards.
"We don't think there is very much likelihood of the market collapsing in a spectacular sense. Our forecast is for another decline of between five and 10 per cent in 2016," said Plumb.

He said the market would bottom out by the end of 2016.
"We see them (prices) stabilise at these new rates, which is a good sign, a sign that the market has reached the bottom of the cycle," said Salbak, adding that prices should pick up next year.

Dubai property giant Emaar profit up 31% in Q3

She argued that government pledges to maintain increased investments in infrastructure construction send "positive signs for the market that the government is still committed to this sector, to the real estate sector, to construction".

Mohamed Alabbar, chairman of Emaar Properties which developed major Dubai projects including Burj Khalifa, the world's tallest tower, also sounded optimistic.

"We are in the long-term business. Cycles come and go," he told AFP, adding that the current drop in prices is "OK".

"We are in business, it is not that bad," he said after unveiling plans to build an even taller tower.

Alabbar argued that it was good prices did not experience a "drastic (and) crazy 2007 increase" during post-crisis recovery.

"Everybody wants prices to increase, but I think they have to be affordable," he said.

"I think the balance between supply and demand... is very encouraging."

Salbak also said supply is "currently being controlled", with developers "more cautious and wary of the need to phase out their delivery of projects, in line with demand".
COMMENTS (9)
Comments are moderated and generally will be posted if they are on-topic and not abusive.
For more information, please see our Comments FAQ