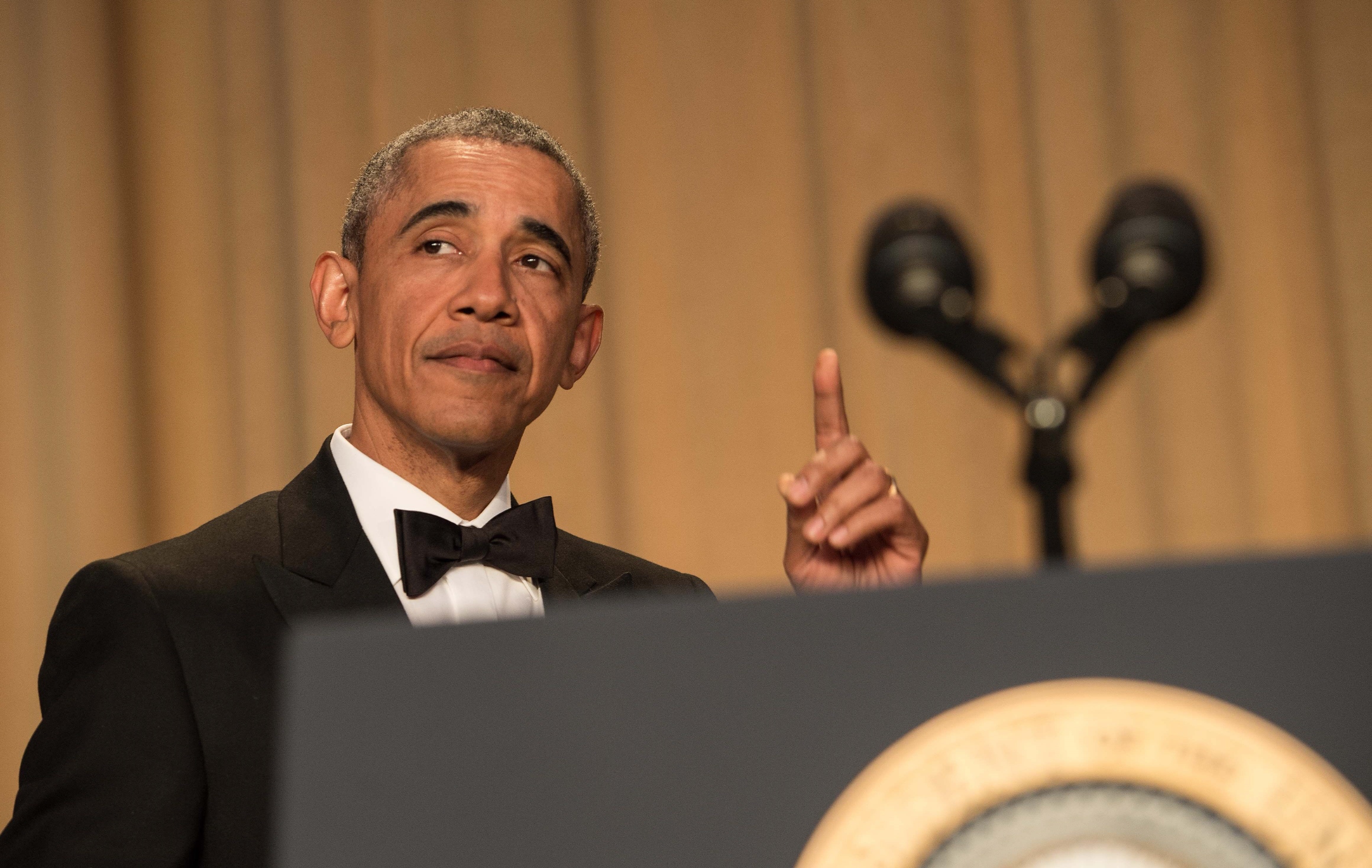 ---
WASHINGTON DC: President Barack Obama cracked jokes and poked fun at rivals Saturday in his last appearance as US leader at the White House Correspondents' Association dinner, ending his performance with a microphone drop and the words "Obama out."

The black-tie event - at which the president, followed by a bona fide comedian, regale journalists and their celebrity guests with insider jokes about government and the media -- is an annual inside-the-beltway ritual.

Obama poked fun at himself, the Democratic and Republican presidential candidates and reporters. On a serious note he praised Washington Post former Tehran correspondent Jason Rezaian, released in October after 18 months in an Iranian prison.

It is Obama's job to convince Congress on F-16s sale: Fatemi

Obama made fun about how he has aged on the job and how in his final year his approval ratings have been rising. "The last time I was this high, I was trying to decide on my major," Obama said, a reference to smoking pot in college.

Obama also shared a hilarious video about their extended stay in Washington one he's 'done'.



Donald Trump, the 2016 Republican White House frontrunner and a frequent event guest, was absent on Saturday.

However billionaire Republican former New York mayor Michael Bloomberg, who toyed with the idea of entering the presidential race, was at the event.

"Mike, a combative, controversial New York billionaire is leading the GOP primary and it's not you," Obama told Bloomberg.

"That has to sting a little bit. Although it is not an entirely unfair comparison between you and Donald. Mike was a big city mayor. He knows policy in depth, and he is actually worth the amount of money that he says he is."

Fearing dollar flight, govt looks for Chinese financing

Trump was the target of some pointed jabs at the 2011 dinner, and said he would not attend this year's event, suggesting that the media would misreport his mood.

But Democratic presidential candidate Bernie Sanders was present.

"Bernie, you look like a million bucks. Or, to put in terms you will understand, you look like 37,000 donations of $27 each," Obama said, a reference to the flood of small contributions to Sanders' insurgent campaign.

"I am hurt though, Bernie, that you have distanced yourself from me. That's not something that you do to your comrade."

US administration supports F-16s for Pakistan, says official

Obama ended his presentation by saying "Obama out" followed by a microphone drop, a celebrity and pop culture way of saying that the performance was so good there is nothing to add.

Hollywood celebrities at the event included actors Will Smith and his wife Jada Pinkett Smith, Kerry Washington, star of the Washington-based TV show "Scandal," Helen Mirren, Bryan Cranston and singer Aretha Franklin.