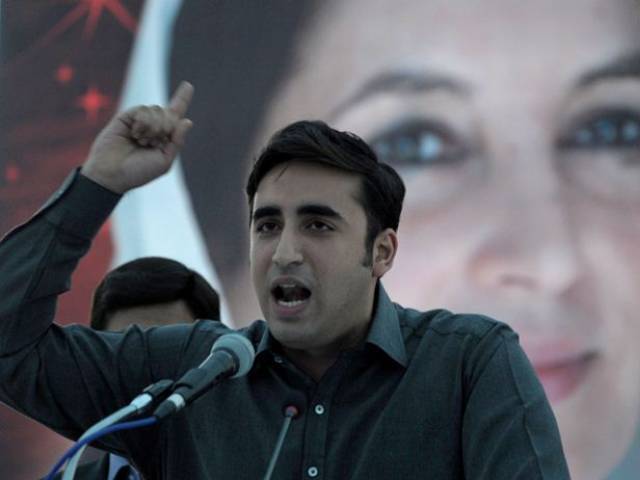 ---
KOTLI:



Pakistan Peoples Party Chairman Bilawal Bhutto Zardari has called upon Prime Minister Nawaz Sharif to step down until investigations into the offshore assets of his family are completed.




"Mian sahib, you had demanded the resignation of former prime minister of our party Yousaf Raza Gilani and now we demand your resignation till the completion of investigation into the Panama leaks," Bilawal said on Saturday while addressing his first-ever political gathering in Azad Jammu and Kashmir (AJK) where general elections are scheduled in June.

Panama Papers: Bilawal urges Nawaz to resign until inquiry is complete

The scion of the Bhutto dynasty predicted the ruling Pakistan Muslim League-Nawaz would not complete
its five-year term. "Panama leaks have exposed the prime minister. His insincerity with the nation is now in the open and his term is nearing its end," he said.

Bilawal accused the PML-N of wanting to sell the Pakistan Steel Mills and Pakistan International Airlines so they could be bought through his offshore companies. "Domestic and foreign policies of the government are made while keeping in view the [Sharif family's] business interests," he said.

The PPP chief also criticised the premier for his alleged Indian connections and having only business interests in coming to power. "In three terms, Nawaz Sharif has proved himself to be a good businessman, and not a good leader," he said. "There is no room for [Narendra] Modi's friends in Pakistan."

Bilawal added he would not remain silent on corruption now and there was no chance to accept Nawaz's apologies. "You have to resign," he insisted, claiming the premier had already started electioneering through public rallies, which proved the premier knew he would not complete his five-year term.

Panama leaks: ICIJ has not apologised to PM Nawaz, claims Imran

He also hit out at the government for 'ignoring' the education sector in favour of roads and metro buses. "The prime minister has no interest in promoting education as there is no steel involved in books," Bilawal claimed, apparently referring to the steel business of the Sharif family. Talking about the upcoming elections in AJK, the PPP chairman alleged the funds of Kashmir Council were being used to buy votes in the region while fake voters were being registered through NADRA.

"Bogus voters are being added in Khyber-Pakhtunkhwa (K-P) and Punjab on Kashmiri refugees seats," he claimed. "The PML-N wants to steal the AJK mandate on the pattern of the 2013 general elections which we will never allow." About the Kashmir dispute, Bilawal asked the international community to give the right of self-determination to the people of Jammu and Kashmir, which would help establish peace in South Asia.

Published in The Express Tribune, May 1st, 2016.
COMMENTS (2)
Comments are moderated and generally will be posted if they are on-topic and not abusive.
For more information, please see our Comments FAQ