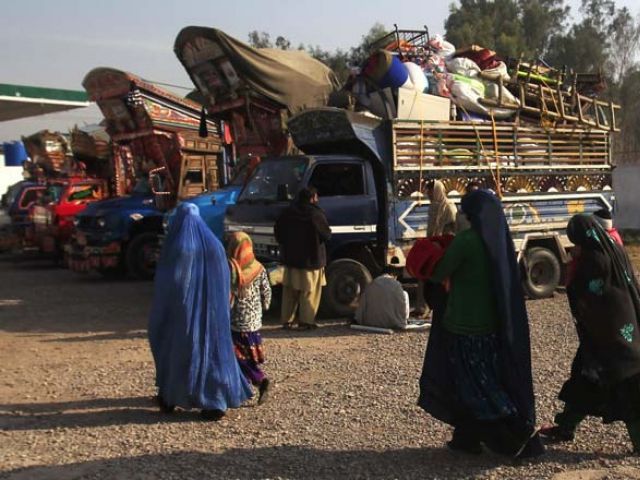 ---
PESHAWAR:



The repatriation of Afghan nationals from Pakistan has serious ramification on businesses in Peshawar, especially after the Army Public School (APS) attack in December 2014.




While traders have lost a majority of their customers, the departure of Afghans has also seen declining rents in areas inhabited by them.

Loss of sales

According to 30-year-old Nabi Khan, who belongs to Kurram Agency and has set up a used clothes shop in Board Bazaar in the city, his daily income has decreased due to the departure of Afghans. "My customers were mostly Afghans and I used to earn around $50 to $60 a day which has now declined to $15," he told The Express Tribune.

Nabi attributed the cause of Afghan repatriation to the deadly attack on APS after which Afghans living in the city without registration papers did not venture out of their houses for fear of being arrested.

Another dealer of traditional Afghani clothes, Gul Muhammad, whose shop is located near Islamia College University, was also concerned about his business. "I have sales of only $5 nowadays," he shared. Muhammad, who is 22, added all of his customers were Afghans and he was earning more than $50 a day before the APS attack.

According to Peshawar Traders Union President Shaukatullah, Saddar Bazaar is the business hub of the urban metropolis where 30 to 35% businesses have been set up by Afghan traders.

Local pros and cons

He told The Express Tribune though the repatriation of Afghan refugees will impact the market economy, it will simultaneously produce space for local traders. Shaukatullah explained renting shops will now be less expensive which will benefit local businessmen. "I think the market will not be affected to a great extent," he said.

Though, some businesses will suffer, such as the housing market in the city. Afghan refugees live in Hayatabad and pay $150 to $350 monthly as rent.

Their departure will see a decline in property prices.

Mumtaz Khan, a property dealer in Phase-III, Hayatabad said their income was declining daily as large number of Afghan refugees have vacated houses and returned home.

"Those houses which were given to Afghan refugees for $150 are now being rented out to locals for $90 to $120," Mumtaz told The Express Tribune.

The backdrop

According to UNHCR, Pakistan hosts the largest number of refugees – approximately 1.5 million Afghan refugees and 7,000 asylum seekers, mostly Afghans live in the country.

Most Afghan refugees fled their country during the war with Soviet Union in the early 1980s and set up businesses in Peshawar. Most of their children have never seen Afghanistan.

"I have three children, all of them were born in Pakistan and are studying here," Afghan refugee Ali Muhammad told The Express Tribune.

The National Action Plan (NAP) launched after the APS attack to combat terrorism included repatriation of Afghan refugees.

The government is also conducting crackdowns against Afghan refugees residing in parts of the province without registration papers. Afghans who possess the legal documents have been asked to leave the country by the end of 2016.

Published in The Express Tribune, May 1st, 2016.