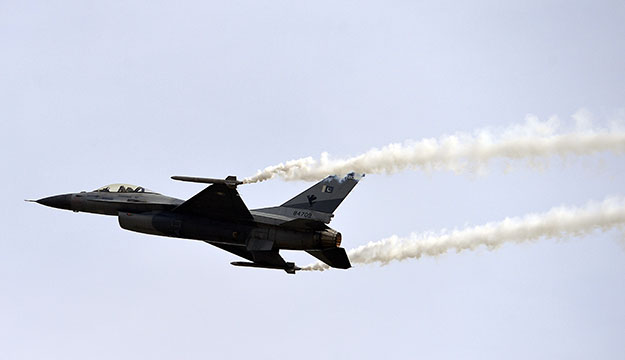 ---
WASHINGTON:



The US Congress has blocked a move by Washington to subsidise Pakistan's purchase of eight Lockheed Martin Corporation's F-16 fighter jets in what is seen as a setback for Islamabad.




The deal, however, has not been scrapped entirely and can still go through as long as Pakistan arranges to pay the full price of the jets, valued at over $700 million.

US administration supports F-16s for Pakistan, says official

Previously, Islamabad was supposed to pay only $270 million while the Barack Obama-led administration was to pay $430 million in subsidy through the US foreign military financing budget.

The decision to stop the subsidy came after the hearing of a sub-committee on Asia and Pacific of the US Congress Committee on Foreign Affairs earlier this week where lawmakers accused Pakistan of not doing enough to fight militants and expressed concerns that the jets could be used against India while also raising objections to using American taxpayers' money to fund the sale, the BBC reported.

"India-Pakistan tensions remain elevated, and some question whether the F-16s could ultimately be used against India or other regional powers, rather than the terrorists as Pakistan has asserted," said the sub-committee's chairman Matt Salmon during Wednesday's hearing.

Pakistan had sought to purchase the aircraft to bolster its fleet of F-16s which have been deployed against militants in a massive operation in the border regions with Afghanistan.




"F-16s provide precision strike capability to Pakistan's ongoing campaign against militancy and have proven to be an effective platform during Operation Zarb-e-Azb," argued Nadeem Hotiana, the spokesperson for Pakistan Embassy in Washington DC, in a statement.

US Senate rejects move to block F-16 sale to Pakistan

Noting that the US administration supports the sale which is in line with bilateral counterterrorism cooperation that both sides have pursued, Hotiana said that "Pakistan believes that threat from terrorist networks requires continued capacity building and both governments continue to work together towards this objective through a range of measures including sale of these aircraft."

A senior US State Department official, who asked to remain anonymous since he was not authorised to speak on the matter, echoed Hotiana's sentiments and told the BBC that the Obama administration is still very much in favour of selling the jets to Pakistan since it believes it is in the national interest of the United States.

Richard Olson, US Special Representative for Afghanistan and Pakistan, had stated in his testimony before the sub-committee that the request of $743.2 million in security and civilian funds for Pakistan in 2016-17 struck the appropriate balance between long-term development and strategic military-to-military cooperation, both of which is in America's national security interest particularly in the region.

Sale of F-16s to Pakistan is in America's national interest: US

"The requested resources remain crucial to advancing cooperation on core areas that matter to us: bolstering Pakistan's counterinsurgency and counterterrorism operations; empowering women and girls; enabling the return of internally displaced persons; and facilitating private sector investment in Pakistan's economy and energy sector."

Olson went on to describe how US security assistance has already proven to be of significant benefit to Pakistan's military operations in the Federally Administered Tribal Areas (Fata), detailing how the air force had used jets like the F-16s to drop more than 800 US-provided guided bombs (GBUs) which contributed in killing more than 1,700 terrorists.

"The use of precision munitSSS approved the sale in February, several US lawmakers had raised their concerns with some publicly expressing their intention to block it at various stages of approval.

India also raised strong objections to the sale and had lobbied to have the sale blocked.

Senate Foreign Relations Committee Chairman Bob Corker allowed Washington to proceed with the deal, but said he would not approve using US funds to pay for the planes.

Republican Senator Rand Paul in late February tried to block the deal by invoking Arms Export Control Act, by passing a Resolution of Disapproval. But the move was defeated 71 to 24.

Published in The Express Tribune, April 30th, 2016.
COMMENTS (6)
Comments are moderated and generally will be posted if they are on-topic and not abusive.
For more information, please see our Comments FAQ