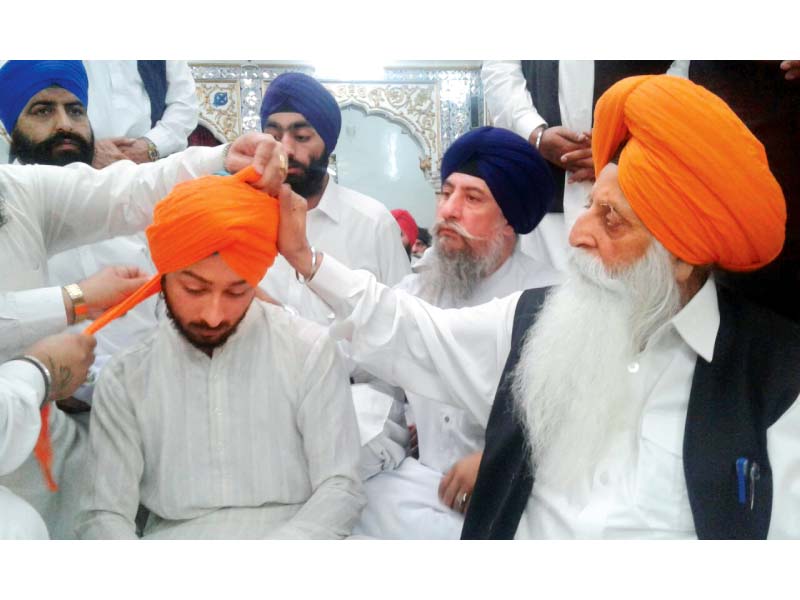 ---
PESHAWAR:



With only a soft breeze whispering through its halls the morning after Sardar Soran Singh's death, Gurdwara Bhai Joga Singh echoed with prayers for the late MPA and special assistant on minority affairs.




Organised by the Evacuee Property Trust and the Pakistan Sikh Gurdwara Parbandhak committee, the condolence reference saw elders from all religious communities collect under one roof to celebrate Sardar Soran. They recalled his efforts and services; the MPA who was assassinated April 22 is remembered by all as having worked tirelessly for adherents of all minority faith.

Prayers at the sangat were accompanied by the dastar bandi of Sardar Soran's son Ajay Singh. Various Sikh associations from Pakistan and the UK offered Rs4 million to the late Sardar Soran's family.

Ajay thanked the people who gathered at the gurdwara for the love and respect with which they honoured his father and also demanded financial assistance from the provincial government. "I demand the government punish the culprit who killed my father," he added.

Remembering Sardar Soran, Evacuee Property Trust Board Chairperson Sidiqul Farooq said he was a son of the nation who raised his voice for the rights of minorities. Farooq demanded transparent investigation; "a week has passed and the killer or killers are yet to be apprehended".

Sahib Singh reminded everyone the late Sardar Soran was a white-collar employee and lived in a rented house. "We demand the government of Khyber-Pakhtunkhwa compensate the family as his children are too young to start earning for themselves."

Councillors denounce murder

An emotionally-charged Ajay said, "Sardar Soran Singh was your brother, your colleague and your friend who spent more time with you than with my family." He was addressing participants at another condolence reference held at the district council hall to honour his father. The gathering was arranged by district, towns and city councillors. Hindus and Sikhs also attended.

Ajay said the time he had with his father was limited as the late MPA was always preoccupied with the attending to the needs of the communities and addressing their grievances.  "I shall carry on his mission to strive for the rights of minorities, with your support and help."

City district naib nazim Syed Qasim Ali Shah said Sardar Soran always supported Pakistan Tehrek-e-Insaf's (PTI) mission to further public interest.

"You are not minorities but equal citizens of this [Pakistan] country," Shah added. "Why should we call them minorities when they are from among us?"

Published in The Express Tribune, April 30th, 2016.