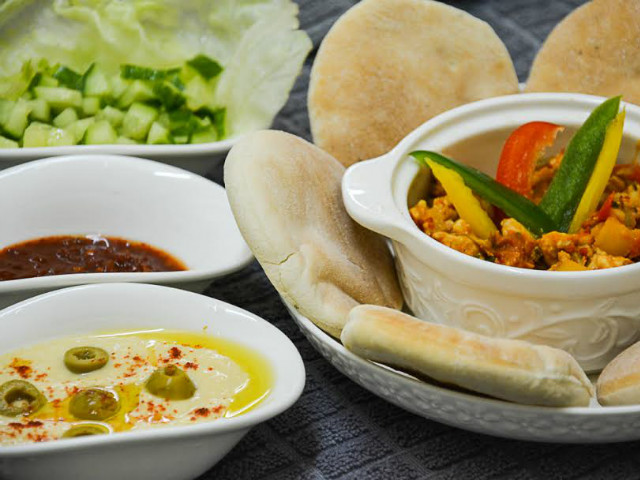 ---
It's that awkward time between lunch and dinner, when your tummy's rumbling and you're thinking of your next meal. Need ideas? Fret no more! Welcome to our weekly food feature.

Change is the only constant; people are always on the lookout for something fresh, something that enthralls them. Ordinary is now associated with boring. The same is true for food too; no wonder molecular gastronomy and fusion cuisine are such a rage these days.

As a self-proclaimed food aficionado, I'm always on the lookout for new culinary experiences. At times, I pick ingredients which are the hallmark of a specific culinary tradition and mix them up with others. The results can be anywhere between disastrous and exemplary. Fortunately, the Middle-Eastern Mexican fusion recipe I'm about to share with you belongs to the latter end of the spectrum.

How to make mouth-watering 'pizza pasta'

Prep Time: 20 minutes

Serves: 3-4 people

Hummus

- 1 cup boiled chickpeas

- ½ tablespoon sesame seeds

- 2 tablespoon olive oil

- 1 green chili

- 2 cloves of garlic

- ½ tsp salt

- 1½ cups yogurt




Method

1. Add all hummus ingredients in a blender and mix till it forms a fine paste.

2. Pour the hummus out in a bowl.

You have to try these 9 egg recipes for dinner

Chicken Filling

- 2 tablespoon olive oil

- 4 cloves of garlic (finely chopped)

- 3-4 mushrooms

- ½ chicken breast cut into small cubes (1 cm2)

- ¼ red bell pepper

- ¼ yellow bell pepper

- ¼ green bell pepper

- 2 tablespoon sambal (use less for a milder flavor - if you can't find sambal, you can use 1 tablespoon ground chili paste instead)

- 4-5 tablespoon hummus

- 1 tomato (chopped)

- ½ teaspoon salt, or to taste (as sambal is already a bit salty)




Method

1. Take a pan and heat the olive oil.

2. Add in the garlic and fry on medium for a minute.

3. Add the chicken to the pan and once it turns white, add in the mushrooms too.

4. Once the chicken is tender, add the red, green and yellow bell peppers to the pan.

5. Stir in the sambal, hummus and salt and cook for about 30 seconds.

6. Add in the tomatoes and take the pan off the heat.

5 coolers to beat the heat

Final Assembly

- 10-12 mini pita breads (you can use regular pita bread too)

- 10-12 leaves of Iceberg lettuce

- Sambal

- Hummus




Method

1. Pull apart the two pita layers till it forms a pocket.

2. Spread some hummus on one layer, sambal on the other and a lettuce leaf in between.

3. Add in the chicken mix and serve immediately.
COMMENTS
Comments are moderated and generally will be posted if they are on-topic and not abusive.
For more information, please see our Comments FAQ