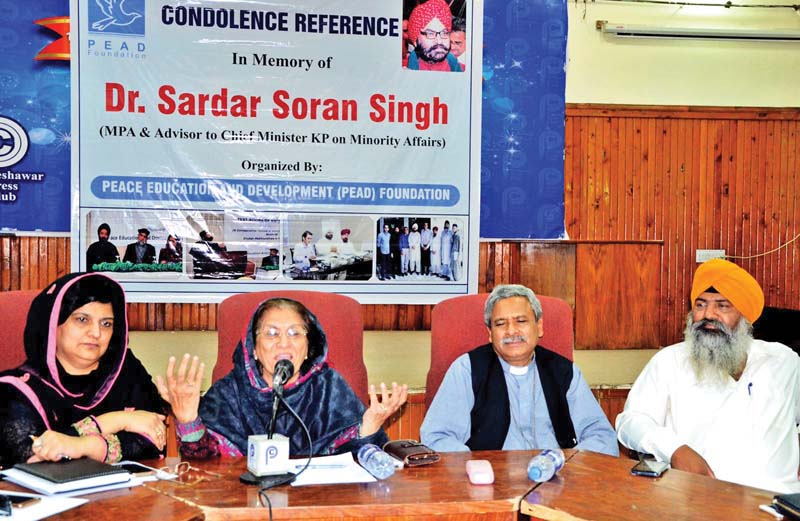 ---
PESHAWAR: Former senator Amarjeet Malhotra has also been implicated in the murder investigation of late MPA Sardar Soran Singh.

"Malhotra was summoned to the police station to answer certain questions," Buner DPO Hamdani told The Express Tribune via telephone on Thursday. "Malhotra is being interrogated," the official said when asked about the former senator's alleged involvement in the assassination of Singh. Malhotra was summoned to Peer Baba police station late Wednesday night.

The DPO said Malhotra will be arrested after sufficient evidence is obtained. So far, he has not been formally arrested or detained, the officer shared.

Sardar Soran Singh was shot dead near his house on Friday, April 22 in Pacha Kalay area of Peer Baba, a historical town in the mountainous Buner region.

High-profile suspects

Malhotra is associated with the Awami National Party and is now the third political figure to be accused of the murder of Singh. Earlier, police took six suspects into custody, including Pakistan Tehreek-e-Insaf's Baldev Kumar and Pakistan Muslim League-Nawaz's Alam Khan.

Elected as first ever non-Muslim Senator in March 2012 on an ANP ticket, Malhotra is a relative of Baldev Kumar. The widow of the slain MPA is also related to both of them.

Kumar is not only PTI's Malakand Division convener, but he is also in line to succeed Singh as a minority MPA. According to the police, Baldev masterminded the assassination Soran Singh over political rivalry.

The Khyber-Pakhtunkhwa Assembly on coming Friday will pay homage to Singh. The assembly secretariat said members, through a point of order, will request the suspension of the day's agenda to pay tribute to the slain MPA and Cabinet member.

However, the secretariat confirmed a number of important bills are on the agenda. The opposition is also likely to ask for a debate on recent acts of violence in Charsadda, target killings in Peshawar, Swat and other areas of the province.

It also plans to take up the Bank of Khyber controversy in which K-P Minister for Finance Muzaffar Said is implicated. While the opposition is demanding a judicial commission to look into the matter, the Jamaat-e-Islami, Said's party, has asked the assembly speaker to form a parliamentary commission.

Condolence reference

K-P Assembly Deputy Speaker Meher Taj Roghani said Singh was a true soldier of PTI who always fought for human rights.

Roghani was addressing a condolence reference at Peshawar Press Club on Thursday.

"Sardar Soran Singh was a cheerful person who always used to make others smile," she said. He was a true soldier of the nation who always had "Pakistan Zindabad" on his lips, said people at the reference which was organised by Peace, Education and Development Foundation. Roghani was accompanied by Provincial Women Commission on Status of Women Chairperson Neelum Toru, Bishop Humphrey Peters, Haroon Sarbdiyal, Radesh Singh Tony and Charan Jeet Singh.

Recalling Singh's efforts for the betterment of minorities in K-P, Toru said he always fought for all minority groups.

According to Peters, Singh was above any one religion "as he always told people his religion was humanity." Peters added, "He was a Sikh in the Sikh community, a Christian in the Christian community and a Hindu for the Hindus."

Published in The Express Tribune, April 29th,  2016.
COMMENTS
Comments are moderated and generally will be posted if they are on-topic and not abusive.
For more information, please see our Comments FAQ