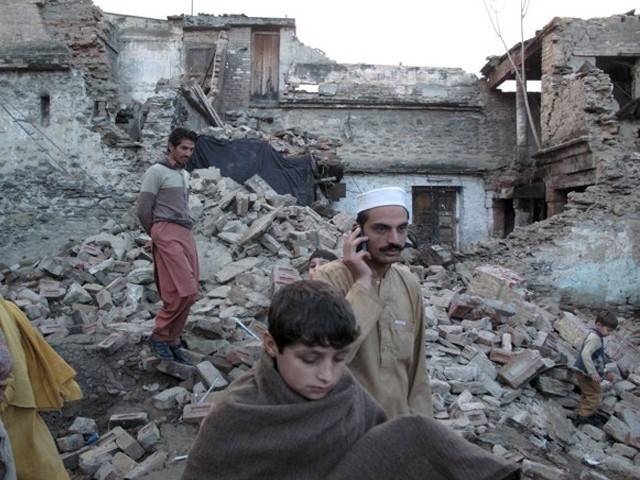 ---
CHITRAL:



Representatives of around 450 quake-affected families from Chitral continued their sit-in at Mir Khani Post on Chitral-Peshawar Road for the second consecutive day on Thursday. An all-parties conference was held in Darosh, Chitral to discuss the matter.




On Wednesday, protesters from various villages of Darosh marched towards Afghanistan to protest against the district administration's failure to compensate them and repair damaged infrastructure. However, they were stopped at Mir Khani Post by the Chitral Scouts. Officers and Chitral Assistant Commissioner Altaf Ahmad made efforts to convince the protesters to return and call off their decision of migrating.

Abdul Bari, who led the demonstration, told The Express Tribune the sit-in continued for a second consecutive day in a sparsely-populated area surrounded by mountains and forests.

"People are facing severe problems due to the lack of proper shelter, food and drinking water," he said.  According to Bari, the assistant commissioner and Chitral Additional Assistant Commissioner Abdul Karam held a dialogue with the protesters. However, the two-hour-long negotiations remained inconclusive.

"There is nothing from the administration apart from assurances and [empty] promises," he said.

Bari said it will be difficult for the protesters to return home unless they receive compensatory cheques.

All-parties conference

An emergency all-parties conference was held in Darosh on Thursday to discuss the matter. However, speakers at the conference remained divided.




Most of them supported the demand for rehabilitation, but were divided over the march towards Afghanistan. The speakers expressed their concern over the matter and held the administration responsible for forcing residents to take to the streets. Some of them opposed the march towards Afghanistan, saying the demonstrators needed to push for their demands within the country. Qari Jamal Nasar suggested a jirga should be formed to bring back the protesters from Mir Khani.

Ahmad remained firm on his decision. "Compensatory cheques to quake victims are issued according to a procedure," he said. He said the protest was uncalled for and there is no justification to threaten migration to Afghanistan.

He said efforts would continue to convince the agitators to call off their protest and return home.

The other view 

Officials said Provincial Disaster Management Authority (PDMA) stopped compensation cheques due to the lack of funds and flaws in surveys. Chitral Assistant  Commissioner Ahmad told journalists the number of earthquake victims is around 5,000 in the district and rehabilitation requires an amount of more than Rs70 million.

However, Bari insists PDMA and the civil administration conducted a survey four times in the affected areas and the lists of victims changed time and again.


Bari and other leaders also showed their disappointment over the role played by elected parliamentarians and local government representatives. None of the top-ranking officials showed up to Thursday's APC. The conference, through a resolution, asked the administration to form a jirga to convince protesters to return.


Published in The Express Tribune, April 29th,  2016.