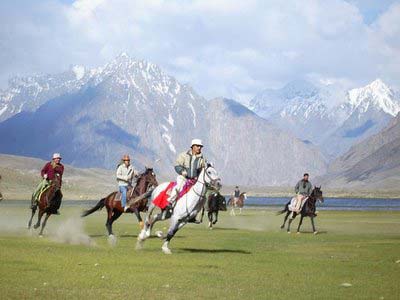 ---
PESHAWAR: Tourism Corporation Khyber Pakhtunkhwa has decided to organise the annual Shandur Polo Festival which was cancelled in 2015 due to floods. The infrastructure in the district was devastated further after the October 26, 2015 temblor.

Chitral Deputy Commissioner Osama Warraich who was also present at the meeting asked for funds for the reconstruction of roads and repairs of bridges before the event.

Shandur festival draws polo fans from all over Pakistan and the polo-playing world. It will be held from July 22 to July 24.

The meeting was chaired by Additional Secretary for Tourism Muhammad Tariq Khan and attended by TCKP Managing Director Mushtaq Ahmad Khan, Warraich, Chitral Scouts  Commandant Nizamuddin Shah, Deputy Secretary Home Rehmatullah Wazir,  MPA Bibi Fozia and other officials.

The festival has been held regularly since 1930 from July 7 to 9 but due to Ramazan, the dates had to be revised.  The famous festival which is acclaimed internationally and attracts tourists from all over the world is played at the highest polo ground of the world at Shandur Pass in Chitral between teams of Gilgit and Chitral.

Warraich stressed upon the timely receipt of funds to enable them to repair six bridges which come under C&W Department from Chitral towards Shandur. He also suggested a multinational company be taken on board to help publicise the event.  The DC added polo players coming from Gilgit-Baltistan should be paid horse allowances and portable toilets be placed at different areas on the route to Shandur.

Published in The Express Tribune, April 29th,  2016.
COMMENTS
Comments are moderated and generally will be posted if they are on-topic and not abusive.
For more information, please see our Comments FAQ