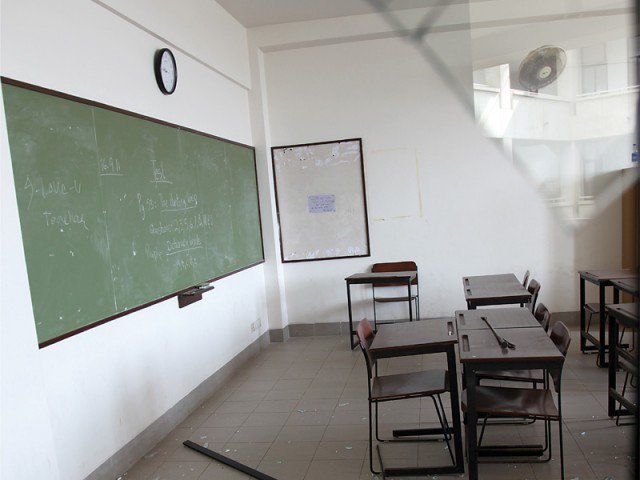 ---
PESHAWAR:



There is only one primary school for girls with visually impairments across Khyber-Pakhtunkhwa and that too has not much to offer. No higher education facilities are currently available for either girls or boys in the province.




According to the social welfare department, there are a few government primary schools for boys with blindness or other visual impairments in Peshawar, Mardan, Swabi, DI Khan and Lower Dir, but only a single government primary school for girls exists – in Peshawar. According to officials, government indifference has caused the lone school to suffer excessively.

Left in the lurch

Government Girls Primary School (GGPS) is located in Nanakpura in the city. Established in 1962 within two rooms, the only school in the entire province for girls who cannot see has only 30 seats, two classrooms and one bathroom for students and staff.




Talking to The Express Tribune, an official said there are only 16 beds for 30 students in the one-room hostel. He also said the school has no vehicle for students and in cases of emergency, student face tremendous trouble travelling to hospitals.

He added the social welfare department used to provide funds to students for meals. Recently, however, monetary compensation has decreased and even the quality of meals has fallen.

The official said students have reading material in braille brought in from Punjab since such books are not available in K-P. He said students face a lot of problems using the books since they are published in Punjabi – a language they are unfamiliar with.

From far

A teacher at GGPS for girls with visual impairments, requesting anonymity, said currently 30 students from Bajaur, Mardan, Swabi, Pabbi in Nowshera, Lower Dir and Peshawar were enrolled at the school. She said the number of blind girls in the province was high and a large number of parents had contacted the school but due to lack of facilities, were unable to enrol their children.

She said several letters had been written to authorities but no response had ever been received. She also shared a budget of Rs20 million had been proved for reconstruction of the school and work was scheduled to be started soon.

The teacher requested the government establish schools for blind children in all districts so students could get educated without the hassle and risks of travelling far.

A higher cause

She suggested providing higher education facilities in the province so education is not discontinued after the primary level. Sumaira, a student of GGPS and resident of Mardan, also urged the government to set up higher education facilities in the city. She said she, like many of her classmates, wanted to study more but feared her dream will never turn into reality.

Social Welfare, Special Education and Women Empowerment District Officer Jehanzeb Khan told The Express Tribune the current government plans to establish high schools for male and female students who suffer from blindness or other visual impairments.

He said confirmed Rs20 million had been allocated for the reconstruction of GGPS Nanakpura. Jehanzeb added construction work had started and five new rooms, hostels, offices and other facilities would facilitate staff and students very soon.

Published in The Express Tribune, April 29th,  2016.