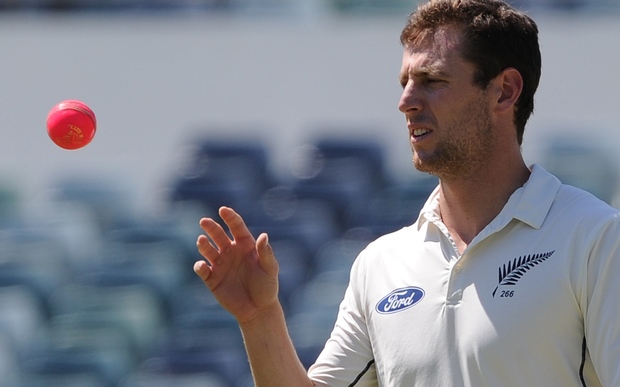 ---
WELLINGTON, NEW ZEALAND: Players and traditionalists need to accept pink-ball Tests or the five-day format will not survive, New Zealand Cricket chief executive David White warned on Thursday.

Australia and New Zealand played the inaugural day-night Test in Adelaide last year, attracting huge crowds to rival those at limited-overs versions of the game.

But players from both sides complained about the pink ball, intended to be more visible under floodlights, and some conservatives felt it undermined a Test tradition dating back to 1877.

White said there was strong enthusiasm for more day-night Tests at a meeting of the International Cricket Council board in Dubai last weekend.

All test nations want day-night matches, says Australia

He said there was also a groundswell of support from fans and television broadcasters, expressing confidence that players would eventually come around.

"I think the players will be very supportive going forward, (day-night Test cricket) is essential for the survival of the format, to be honest," he told Radio Sport.

White said day-nighters would never dominate Test cricket but he could envisage a time when most series included a match played under lights.

"It provides an opportunity for the game to be more accessible to the fans and we've got to listen to them, they drive the revenue, they drive the game," he said.

"We've got to uphold the traditions of the game -- I'm as traditional as anyone -- but we've got to look to the future as well."

Day-night Tests favour bowlers over batsmen: Misbahul Haq

Players raised concerns after the Adelaide Test about the pink ball's movement and durability, as well as the difficulty batsmen faced seeing it under lights.

South Africa's players have also refused to commit to a day-night Test later this year in Adelaide, Cricket Australia chief executive James Sutherland said last week.

Black Caps coach Mike Hesson said "fine tuning" would solve the problems, insisting New Zealand's players backed the concept of day-night Tests.

"I think it's inevitable that we'll play a lot more day-night cricket over the coming years," he told reporters.

However, White said Indian officials had "jumped the gun" in announcing last week that they would play a pink-ball Test against New Zealand when the Black Caps tour later this year.

He said NZC wanted it to go ahead but it would not be locked in until discussions around issues such as practice matches were completed.

He said administrators in India saw it as a way to raise the profile of Test cricket.

"They realise that they have got an issue with their crowds at Test match cricket," he said.

"While T20 and one-day cricket is huge, they do struggle to get big crowds for Test matches."

Hesson denied administrators in Australia and now India were using New Zealand as a "guinea pig" to trial the effectiveness of day-night cricket before adopting it against big-name opponents.

He said it would be an honour to be involved in the first pink-ball Test played in India, if the fixture goes ahead.

"To play in front of a full house in India in a Test match would be pretty special," he said.
COMMENTS
Comments are moderated and generally will be posted if they are on-topic and not abusive.
For more information, please see our Comments FAQ