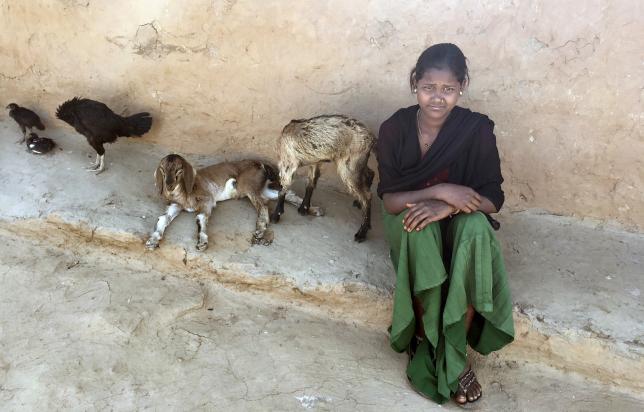 ---
DUNGARPUR, INDIA: For Anita, the eldest daughter in a family in Rajasthan, a family tragedy means she has had to leave school and go to work, unlike her friends, doing an adult job even though she is only 14.

After the sudden death of Anita's father, her mother abandoned the three children to the care of their grandmother in Mandwa village. Struggling to raise them on a meagre widow's pension, the grandmother pulled Anita out of school four years ago to do the housework, then sent the girl to take over her government job on a construction site.

In Last Three Years: $190,000 allocated to end child labour

"I liked going to school. My best friend still goes to school," said Anita, who fetches water, cooks and tends to the family's goats before she sets off for her 9-to-5 working day.

"But my grandmother can't work, and there is no one else."

There are 5.7 million child workers in India aged between five and 17, out of 168 million globally, according to the International Labour Organisation.

More than half the children work in agriculture, toiling in cotton, sugarcane and rice paddy fields, and over a quarter in manufacturing, embroidering clothes, weaving carpets or making matchsticks and rolling beedi cigarettes. Children also work in restaurants and hotels, and in middle-class homes.

In recent years, another option has opened up for Anita and thousands of children like her: the Mahatma Gandhi National Rural Employment Guarantee Act. Enacted in 2005, it provides 100 days of employment a year to one adult member of every rural household. A third of the jobs are reserved for women.

EMPOWERING WOMEN

The job scheme has been credited with reducing rural poverty, curbing school dropout rates, empowering women and improving the financial inclusion of rural populations.

In many parts of the country, successive years of drought have forced villagers to migrate in search of jobs.

Thanks to MGNREGA, the women sometimes stay behind to earn about 180 rupees ($3) a day working on construction sites or on highways. When they too go away, older people take on the job.

Rajasthan has 24 million workers on the MGNREGA scheme, according to official data, and women make up more than 60 percent of the state's active MGNREGA workforce.

Inspection teams: 'Responsibility for child labour at kilns is owners' alone'

There is no mention of child workers, yet they are far from rare. No one at Anita's job checks identity cards or questions her age, and there are other children like her, she said.

A Rajasthan state MGNREGA officer said no children were employed in the scheme.

"We are very sure there are no minors working," Sandeep Katra told the Thomson Reuters Foundation.

"There may be some working in place of their mother or father, but the village officials are responsible for checking the job cards and making sure there are no irregularities."

SEWING MACHINE

Non-profit Save the Children has had some success persuading parents in Dungarpur district that they must educate their children and not send them out to work.

It also works with government officials to stop children from working in MGNREGA jobs in Dungarpur, where the average literacy rate is 58 percent, compared with a national average of 74 percent, according to 2011 data.

"There are many children continuing to work at MGNREGA sites despite our efforts," said Harish Chanderiya, a project coordinator.

"Poverty could be considered as a driver, but there are deep-rooted attitudinal constraints which have aggravated the situation of child labour in Dungarpur," he said.

A Save the Children report this week noted the entrenched exclusion of girls and women in India, starting even before birth with female foeticide, and including child marriage.

Torture alleged: Child maid's father seeks case against employer

In the case of Anita, the non-profit's efforts include getting more state benefits for her grandmother, so the family is not overly reliant on Anita's wages, which also help pay for her two younger brothers at a charitable residential school.

Anita herself does not plan to work as a labourer for long.

"I'd like to learn sewing, so I can make clothes and sell them in the village," she said.

"We have to go into town now to buy clothes. So if I learn to use a sewing machine, I think I can do well."
COMMENTS
Comments are moderated and generally will be posted if they are on-topic and not abusive.
For more information, please see our Comments FAQ