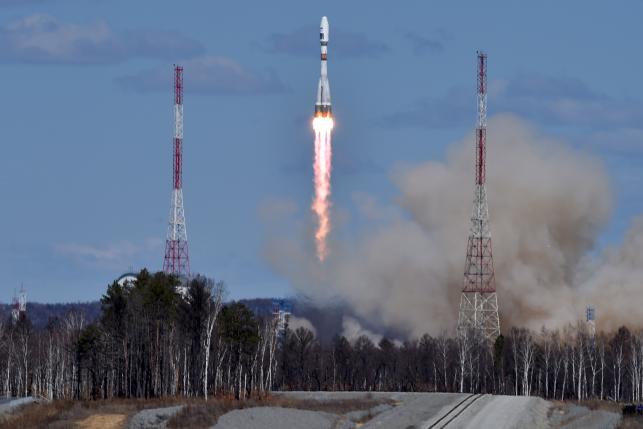 ---
VOSTOCHNY, RUSSIA,: Russia's new Vostochny cosmodrome hosted its first rocket launch Thursday, the Roscosmos space agency said, after a last-minute delay a day earlier led to President Vladimir Putin criticising the programme's officials.

The Soyuz 2.1a rocket carrying three satellites took off at 11.01 am local time (0201 GMT), the national space agency said in a statement, after the countdown was automatically halted for technical reasons 24 hours previously.

NASA adds commercial mini-shuttle to station supply fleet

"The rocket launch was carried out successfully. All three satellites are now in orbit," Roscosmos said in a statement.

Russian television showed the Soyuz 2.1a taking off into a blue sky in light winds, though foreign media organisations including AFP were not allowed to enter the new space centre.

Putin was present for the event, having travelled to Russia's far-east to witness the first attempt at take-off.

The postponement of Vostochny's inaugural launch led the president to scold space chiefs -- despite delays worldwide being relatively frequent, with a European launch from French Guiana having to be put off three times last week before finally taking place on Monday.

NASA wants to grow potatoes on Mars

"Despite all its failings, Russia remains the world leader in the number of space launches," Putin told a televised meeting of officials.

"But the fact that we're encountering a large number of failures is bad. There must be a timely and professional reaction."

The new spaceport, located in the Amur region, has been hailed by the president as the country's biggest current building project with a budget estimated at between 300 and 400 billion rubles ($4.5 to $6 billion, 4.0 to 5.3 billion euros).

Some 10,000 workers have since 2012 been building 115 kilometres (70 miles) of roads in the immense, sparsely populated region, as well as 125 kilometres of railways and a town with housing for 25,000 people.

China shoots for first landing on dark side of the moon

The Kremlin's goal is to ease Russia's dependence on space launches in Baikonur, Kazakhstan, a launch pad Moscow has been forced to rent at a cost of $115 million a year since the collapse of the Soviet Union.

But Deputy Prime Minister Dmitry Rogozin, who oversees the space and defence industries, said that Russia would continue to use Baikonur to launch manned missions until 2023, and the Soyuz 2.1a would be the only launch from Vostochny in 2016.
COMMENTS
Comments are moderated and generally will be posted if they are on-topic and not abusive.
For more information, please see our Comments FAQ