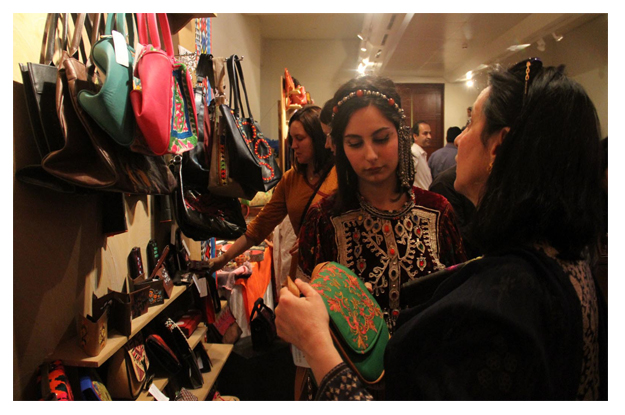 ---
ISLAMABAD:



Investment in Pakistani and Afghan youth would bring peace and sustainable development in both countries. This was said on Wednesday by United Nations High Commissioner for Refugees (UNHCR) Representative Indrika Ratwatte.




She was speaking at the opening ceremony of 'Homemade', a day-long exhibition organised by UNHCR and Aik Hunar Aik Nagar (AHAN) at Pakistan National Council of the Arts.

"We support youth empowerment through a nexus of interlinked interventions in the areas of education, skills training and livelihood support," he said.

He underlined the need for empowering refugees with marketable skills so they can play a role while in exile as well as when they return to their countries.

The exhibition was arranged to showcase and promote handicraft products made by Pakistani communities and Afghan refugees.

As part of UNHCR youth empowerment interventions under the Refugee Affected and Hosting Areas (RAHA) programme, AHAN trained some 1,000 individuals including 727 Pakistanis and 273 Afghan refugees, which resulted in increase of their monthly income by 30 per cent.

The UN refugee agency through AHAN launched Skill Enhancement and Livelihood Initiative in Peshawar, Nowshera, Charsadda and Mardan districts to support skill development and income generation of the most vulnerable people. The selected beneficiaries received trainings in block printing, frame based weaving, jewellery making, filling stitch, handloom weaving, leather and crochet embroidery.

The Rs50.8 million US and German funded project has set up 50 community-based skills training centres in different union councils. Trainees were provided business development trainings to enhance their entrepreneurial skills and develop market linkages through exposure visits.

"I am visually and hearing-impaired but I am confident I can start making some money to support my family by preparing shirts and scarves," said Sheema, 19, one of the trainees.

RAHA is a programme that recognises Pakistan's longstanding hospitality towards refugees. The initiative is aimed at supporting host communities and providing them with quality services in the sectors of health, education, water and sanitation and livelihoods across the country. The programme is a major component of the regional Solutions Strategy for Afghan Refugees endorsed by Afghanistan, Iran, Pakistan and UNHCR in May 2012.

To date, more than 10.6 million people have benefited from some 3,500 projects implemented across the country

The exhibition will open for the public today.

Published in The Express Tribune, April 28th, 2016.