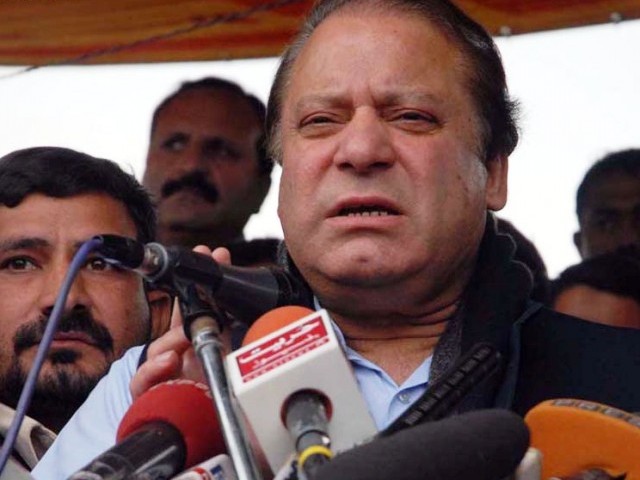 ---
MANSEHRA: The Panama Papers which revealed offshore holdings by Prime Minister Nawaz Sharif's family have put the PM on the back foot. In an effort to defuse pressure from the opposition—especially Pakistan Tehreek-e-Insaf—Nawaz has opted to improve his image by launching a campaign starting with a public rally on Thursday (today).

Why Mansehra?

His campaign will start from Mansehra, the district of his son-in-law MNA Captain (retd) Muhammad Safdar – the same place which Nawaz travelled to gain the public's blessings during PTI's protracted sit-in. Like the late Benazir Bhutto, Nawaz seems to think starting from Baba Tanhaka might be a good omen.

Cabinet slams 'smear campaign' against PM

Some say, for all practical purposes for his public image, Nawaz is repurposing the Hazara Motorway project and selling it as part of the China Pakistan Economic Corridor. The motorway however is considered by many to be the brainchild of General (retd) Pervez Musharraf, delayed during Pakistan Peoples Party's tenure. After taking over as PM for the third time, Nawaz seized the opportunity and wooed the pliable Chinese to investment on CPEC as a gateway to Gawadar.

The rallying point

It would seem Safdar and Pakistan Muslim League-Nawaz Mansehra MNA and Federal Minister for Religious Affairs Sardar Muhammad Yousaf have been tasked to ensure large crowds at the rally. Yousuf has returned to his native district to establish contact with his voter base and supporters.

The ground of Hazara University has been selected as the venue for the rally which is scheduled for 11am Thursday (today). Yousaf said after the public meeting, the PM will inaugurate some Sui gas projects, the second phase of the six-lane Havelian-Shinkiari section of CPEC project, a university for women and some other projects.

PML-N brings forth 'LPG leaks' in counterattack

However, according to PTI sources, this was a last ditch effort by Nawaz to win the sympathies of the general public as the leaks sunk his popularity considerably. "Whatever he (PM) will announce to appease the people would have little impact on voters as they want his resignation after the Panama leaks. These have proved the Sharifs are involved in money laundering and tax evasion", claimed Shafqat Khan a PTI worker. He added this time, Nawaz has lost all moral ground to stay in power.

Published in The Express Tribune, April 28th, 2016.