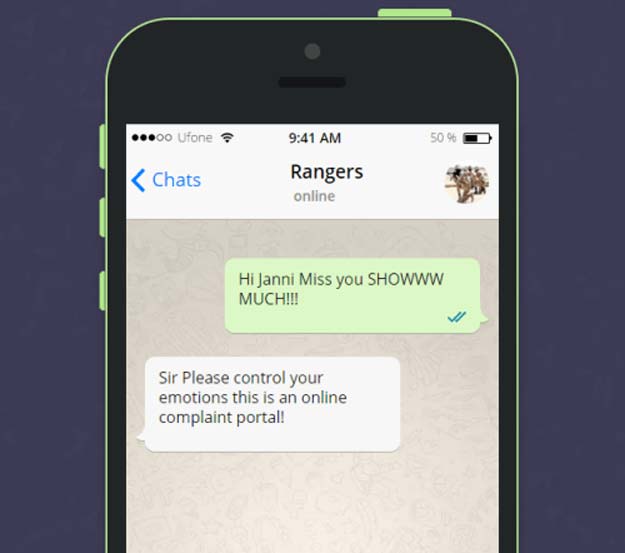 ---
We all know that citizens can now sit at home and send a text or audio/video message to the paramilitary force via WhatsApp to the 'Rangers Madadgar' number and have the law enforcers arrive at their doorstep.

Pakistan Rangers, Sindh have asked citizens to inform them about any unlawful activity, especially extortion, on their WhatsApp number 0316-2369996 or send an email to [email protected].

And while the effort has to be lauded, someone found a rather hilarious take on the the new helpline and how Pakistanis might actually end up using or we should say misusing it.

Rangers launch WhatsApp helpline

Here's a look at some of the snapshots:

Seems the 'fraandshippers' have not even spared the Rangers.




Sindh Rangers want to set up its own 'police stations' in Karachi

Many found the images hilarious while others were not particularly amused:


Now that's hilarious #RangersHelpLine pic.twitter.com/1klsyx0VI1

— Nawabzada Nabeel ur Rehman (@NawabSaahab) April 27, 2016
Very soon #Rangers will have regret on launching their watsapp helpline in #Sindh#KarachiKarachiHay pic.twitter.com/2Ad5yi59sG

— 2Legit2Quit (@truckkibatti007) April 27, 2016


Others pointed out that the images were obviously photoshopped. Duh.




We won't be surprised if such messages actually start making their way on the newly launched helpline. According to official data, nearly 85 per cent of the calls made to Madadgar-15 helpline in Karachi turned out to be bogus. These calls were traced back to pranksters trying to take the law enforcers for a ride. In some cases, the callers made their intentions clear by indulging in flippant conversation from the get-go, while in others the police only learnt of the false alarm when a team was dispatched to investigate.

Photos: Parhlo
COMMENTS (16)
Comments are moderated and generally will be posted if they are on-topic and not abusive.
For more information, please see our Comments FAQ