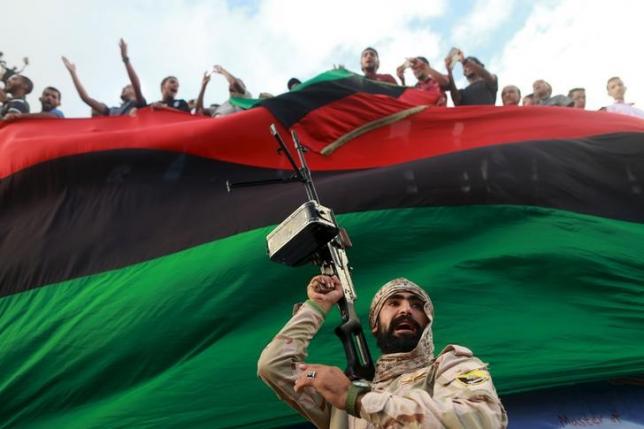 ---
PARIS: France said Tuesday it was ready to help Libya's new unity government with maritime security as the fledgling administration seeks to assert its authority over the chaos-wracked country.

"We must wait until the prime minister (designate Fayez al-Sarraj) tells us what security measures he is planning on taking and what he is hoping to get from the international community to ensure Libya's maritime security. We are ready" to help, Defence Minister Jean-Yves Le Drian told France's Europe 1 radio.

Obama calls Libya his 'worst mistake'

His remarks came a week after the European Union offered "concrete" support to Libya's unity government to boost the economy and security, including training for the Libyan coastguard to stem the flow of migrants across the Mediterranean.

The EU is concerned by the Islamic State group's expansion in Libya, and also by a new increase in migrant arrivals in Italy from Libya since the start of spring.

European leaders are seeking to expand the mandate of a maritime mission in the Mediterranean dubbed Sophia which aims to combat people trafficking off the Libyan coast.

Obama calls for efforts to counter Islamic State in Libya

Sophia's area of operations is currently restricted to international waters, as the EU has neither a Libyan nor a UN mandate to patrol the Libyan coast.

NATO is now three months away from launching its own patrols off Libya as part of a plan to stop migrants arriving in Italy, Italian Defence Minister Roberta Pinotti said Monday.

The mission, which is expected to be approved at a NATO summit on July 7, would be part of a broader Italian plan to close the Western Mediterranean route into the European Union based on the return of so-called economic migrants to their countries of origin.

French Foreign Minister Jean-Marc Ayrault said earlier this month that France does not plan to deploy ground troops or launch air strikes in Libya.

Oil-flush Libya descended into chaos after the 2011 NATO-backed uprising that ousted and killed dictator Moamer Kadhafi.

Saudi jails holding 2,393 Pakistanis

The country has had rival administrations since mid-2014 when a militia alliance took over Tripoli, setting up its own authority and forcing the recognised parliament to flee to the remote east.

A UN-backed power-sharing deal in December was approved by some lawmakers on both sides.

But Sarraj has not yet received the endorsement of the internationally-recognised legislature, and the head of the rival Tripoli-based administration, Khalifa Ghweil, has refused to recognise his authority.