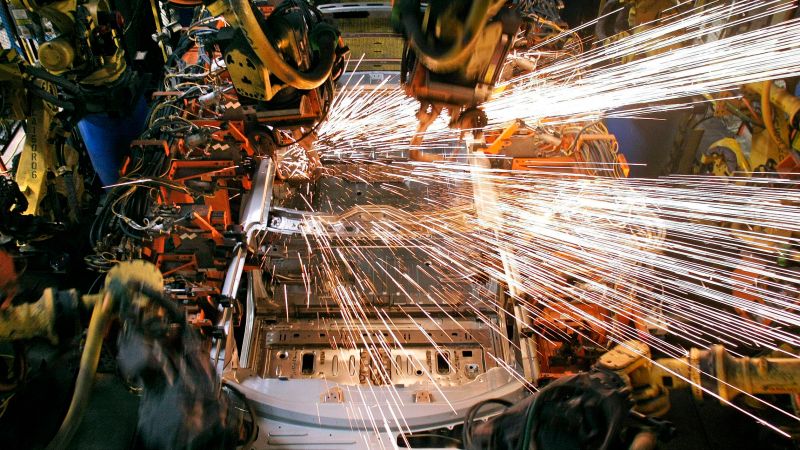 ---
SHANGHAI: A gigantic robotic arm capable of lifting an entire chassis at a General Motors plant in Shanghai is the US automaker's secret weapon as it seeks to sell "Made in China" cars to America.

The yellow machine -- dubbed "Fanuc" by workers after its maker -- can lift a one-tonne object and is being used to transport large parts in the body shop of the Cadillac plant.

GM hopes its high-tech approach will persuade American consumers to put aside quality concerns and safety worries over Chinese-made products, and other manufacturers hope to follow in its tracks -- including Chinese firms themselves -- as the auto industry globalises further.

Global carmakers see rising competition in China

GM and its Chinese partner SAIC earlier this year opened the $1.2 billion Cadillac factory to produce luxury vehicles, including the plug-in hybrid version of its CT6 sedan, which will be sold in both China and the United States.

The US automaker has also announced plans to export to its home market a mid-size SUV, the Buick Envision, made in the eastern Chinese province of Shandong -- prompting condemnation from US unions.

GM China's president Matt Tsien said the Shanghai plant is as cutting-edge as any of its facilities in the United States.

"It has, I would say, some of the most advanced manufacturing technologies and capabilities in the auto industry today. The whole purpose of putting all the advanced technology into manufacturing is to build great cars," he said.

Analysts say GM's size and strength might just convince potential customers.

"The 'Made in China' is not that much of a stumbling block. It's who is making it in China," Namrita Chow, principal analyst for IHS Automotive in London, told AFP.

Some major global companies are already manufacturing products or components in China, notably Apple's iPhone and several parts for Boeing's Next Generation 737.

Doing so allows them to take advantage of China's much lower labour costs but even so, Chow said transport costs and import tariffs have to be taken into account before it makes financial sense for companies -- both foreign-invested and domestic -- to manufacture in China and sell elsewhere.

Dubai says to promote driverless vehicles

GM is looking to Cadillac to challenge German dominance in the Chinese luxury segment, while Beijing is seeking to develop the electric car industry with incentives and other government support, creating potential economies of scale for manufacturers.

"The overall (plug-in hybrid electric vehicle) market, the predominant volume is going to be here in China," said GM's Tsien.

"From a standpoint of logic, it would make sense to manufacture in one location and export small quantities into other parts of the world."

GM is not the only company producing in China and hoping to sell into developed markets: Chinese auto makers have long held such dreams themselves.

China built its auto sector with the help of foreign companies, who must enter into joint ventures with domestic firms to produce vehicles in what is now the world's largest auto market.

The government wants its companies to move up the value chain to develop their own brands that can gain traction overseas.

But sales so far have largely been in developing countries, rather than the coveted US market and Europe, where vehicles must both pass government muster and appeal to sophisticated consumers.

Chinese manufacturers going abroad tend to downplay their roots and stress their international credentials instead.

Geely, owner of Swedish carmaker Volvo, sells cars in Russia and Turkey and the company said last month that it was considering producing in western Europe.

Buyers in the Middle East "were not worried that this was a Chinese brand", said spokesman Ash Sutcliffe. "They looked past the Chinese heritage of the company", focusing on "value for the money".

Fuel Efficiency Scandal: Mitsubishi to compensate customers

"In China we really push it on the Chinese-ness of the car," he added. "In international markets... it's affordable premium."

State-owned Guangzhou Automobile Group Co. has a sales presence in the Middle East and is also considering setting up production in Russia and Iran, according to state media.

Chery Automobile Co. has just relaunched cars assembled in Egypt with a local partner and is eyeing the African market.

"We see Africa as a market with huge potential," Chery International president He Xiaoqing told state media.

China exported 755,500 vehicles of all types last year, according to the China Association of Automobile Manufacturers -- down 20 percent from 2014 and little more than three percent of total domestic production.

But the largely state-owned firms are competing for a bigger prize than just sales, analysts say -- the chance to be picked by Beijing as a future national champion to lead the Chinese fight in a global market.

"Chinese actors are making a point of exporting and have bought some companies to mark themselves out from the pack to the government and show that they deserve to be the consolidator," said Laurent Petizon, automotive expert at consultancy AlixPartners.

"To do that it's important to show you have an impact abroad," he added. "But it's still symbolic for now."