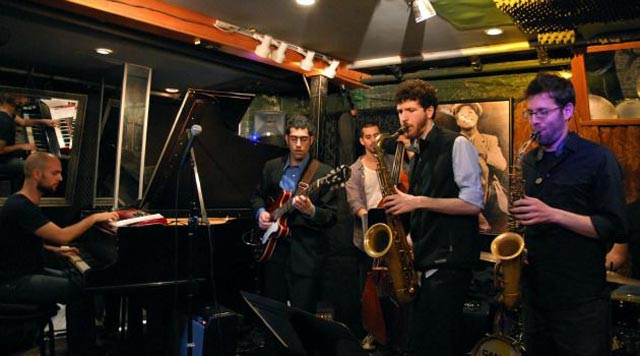 ---
TEL AVIV: When saxophonist Eli Degibri left Israel at the age of 18 to study jazz at the prestigious Berklee College of Music in Boston, he knew he'd come back home one day.

It took 15 years, which included playing with jazz greats like Herbie Hancock and Al Foster in New York, where he also led combos and recorded albums, before the time was right.

"I was only waiting for the opportunity to return, and knew that once I could without sacrificing my music -- I would," Degibri, who relocated to Israel five years ago, told AFP.

Degibri is one several Israeli musicians who are now helping to nurture a burgeoning local scene after years abroad where they trained and played with the best jazz performers.

There has long been a jazz presence in Israel, but never such a wealth of formal training centres alongside returning musicians, according to Ben Shalev, music reporter and critic for Haaretz newspaper.

"You've got 15 year old musicians being inspired by the Avishai Cohens and their likes," he said referring to the prominent Israeli trumpeter and bassist who share the same name.

"There used to not really be such role models."

Shalev said there is an "unheard of" profusion of new Israeli jazz albums being released.

"This would have sounded like science fiction once," he said.

One of the forces behind the abundant recordings is Yael Hadany, who in late 2011 suggested to the owner of Beit Haamudim to turn his faltering bar in Tel Aviv's Carmel Market into a venue for live jazz.

"I was learning contrabass at the time and my teacher didn't have a place to play at," she told AFP from Beit Haamudim, where the "Olden You Quartet" was about to play its first set with the standard tune "On A Slow Boat to China".

"It started from one evening, and an audience grew around it; another evening, another one, another one. Now there are six a week, without a cover charge," she said.

Beit Haamudim's unanticipated success led Hadany to initiate "Pannonica jazz," an association named after the legendary jazz patron Pannonica de Koenigswarter aimed at encouraging and documenting Israeli jazz. It also provides free studio time for artists recording albums.

Hadany believes that free performances and easily available albums can help draw jazz fans in Israel.

It was a strategy used by Mizrahi music -- the popular Israeli genre combining Mediterranean and Arab influences, whose stars began by performing in small clubs and selling cassettes for next to nothing.

"An audience is something that can grow in direct relation to exposure and repetition," she said.

Israeli jazz is also played at festivals across the country, most notably the Red Sea Jazz Festival in the southern resort city of Eilat.

Under Degibri's artistic direction, the festival will be marking its 30th anniversary this August in an event themed around celebrating Israeli jazz.

In the past Israeli musicians at times gravitated towards so-called "falafel jazz" -- the semi-derogatory nickname for jazz with heavy Middle Eastern themes and flavours, but more recently Israelis are distancing themselves from that genre, said Shalev.

While the style still exists, to an extent "it has been exhausted," said Shalev, who follows the jazz scene closely. "Young musicians don't feel a need to express their Israeli identity that way."

But even without a distinct sound, there are characteristics and traits that give Israeli musicians an edge in jazz and could help explain their prominence in the field worldwide.

"Jazz is individualism within dynamics," Hadany said. "In Israel, the individualism is very strong, and in many places you need to adapt yourself to fit in the framework."

Another central aspect of jazz is improvisation, which is "very present in the Israeli mentality" and life, where a volatile security situation and challenging economy "necessitate very quick decisions and adaptations."

Degibri, who will be playing with some of the world's finest musicians at the White House on the United Nations' International Jazz Day on April 30, attributes the rise of Israeli jazz to a combination of good musical education and loads of ambition.

"Any Israeli, in any field, has a kind of drive," he said. "Israelis always want to prove themselves. That's our nature."

On a recent chilly Jerusalem night, Ehud Ettun prepared to lead his trio in a performance at Hamarakia, a restaurant that for years has hosted jazz music.

Ettun, who was raised in Jerusalem and returned to it after studying and playing in the United States, said the city -- torn between Israeli and Palestinian, Jewish and Muslim, religious and secular -- bears potential to become a "jazz capital."

"Jerusalem is such a diverse city, and New York is too," said the 28-year-old.

"Only in New York people say 'it's so cool, it's diverse,' while in Jerusalem people say 'oh no, we've got such problems'," he said.

"I want to connect people with music," he said. "Jazz is a very accepting music, and there's no reason it shouldn't touch everyone. It just needs to learn to be relevant to the communities in which it exists."