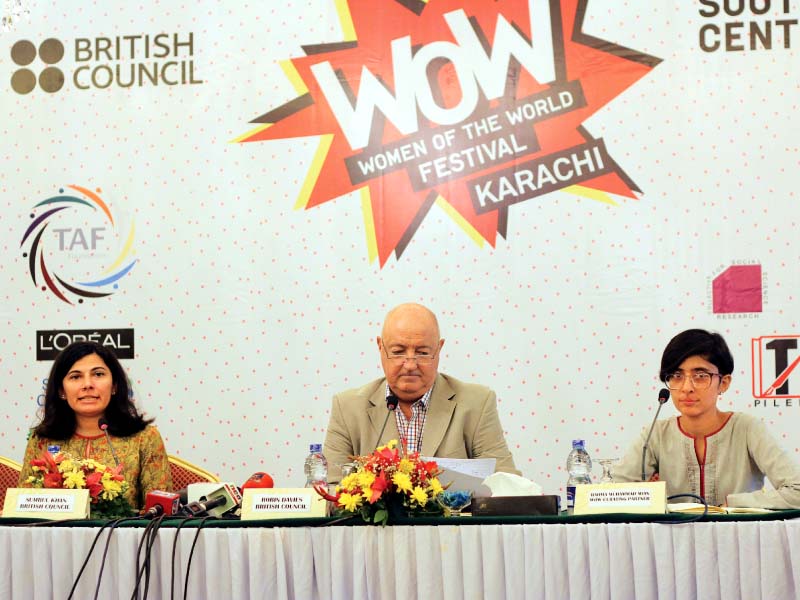 ---
KARACHI: Karachi has become the first South Asian city to host the Women of the World (WOW) festival on Sunday at the Beach Luxury hotel.

The one-day event, with free entry, will celebrate women from different walks of life and bring them together to discuss problems and challenges that unite them and inspire each other.

At a press conference at Pearl Continental hotel on Monday, Sumbul Khan, the arts director at British Council Pakistan, shared that WOW is an international festival that came into being in London in 2011 on International Women's Day. Since then, the festival is being hosted in different cities to celebrate women and talk about their problems, which are kind of the same everywhere, she said.

Levelling the playing field: Empowering women through legal education

"In January 2016, 80 women of Karachi united for a consultation," said Khan. "These were women from different walks of life," she said. Khan went on to say that these women identified problems they face from public transportation to harassment at workplace to awareness about important documents, such as nikahnama, issues of inheritance and limited access to education. Many of these women will be participating in the upcoming festival to share their life stories and helping others.

"We're really excited about WOW," said British Council area director for Balochistan and Sindh, Robin Davies. Even though, the festival is a whole-day event, it's not just about one day but a continuation of British Council's values of equality, diversity and inclusion, he added.

WOW founder Jude Kelly, who came to Karachi in January to help plan the festival, also spoke at the press conference via Skype. She realised that if there was a centre point for discussing gender equality, it would be Pakistan, she said. "I am thrilled that WOW Karachi is happening," she said.

In the end, the organisers shared details of the various sessions taking place over 11 hours on Sunday when as many as six sessions will be running simultaneously. Along with British Council, seven curating partners will be conducting panel discussions, workshops and performances. Some of the issues that will be talked about are 'Women Surviving Vulnerability' and 'Conflict in the city: Karachi as a Woman'.

There will also be an 'Under 10's Feminist Corner' exclusively for kids. In addition, there will be mentoring sessions, 10 short inspiring talks called 'Wow Bites' and sessions on volunteering and how to start a business within a hundred thousand rupees.

Published in The Express Tribune, April 26th, 2016.
COMMENTS
Comments are moderated and generally will be posted if they are on-topic and not abusive.
For more information, please see our Comments FAQ