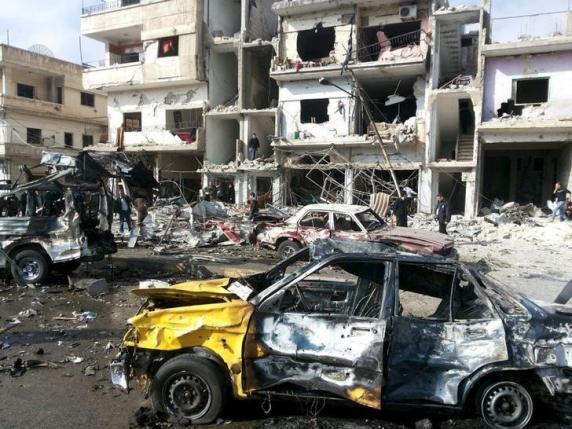 ---
DAMASCUS: A car bomb killed at least five people near the revered Shia shrine of Sayyida Zeinab, south of the Syrian capital Damascus, on Monday, state news agency SANA reported.

The bomb struck Al-Diyabiyah, a town that serves as one of the gateways for the many pilgrims from around the world who visit the Shia holy site.

Bombs kill 50, wound 100 near Syria Shia shrine

Another 20 people were also wounded, SANA reported.

The Syrian Observatory for Human Rights put the death toll at eight. It had no immediate word on whether there were civilians among the dead.

The shrine contains the grave of Zeinab, a venerated granddaughter of the Prophet Mohammed, and is known for its glistening golden onion-shaped dome.

An AFP correspondent said he heard ambulance sirens wailing through the streets of Damascus on their way to Sayyida Zeinab.

Islamic State number two killed in US raid in Syria

The area around the shrine, which is heavily secured with regime checkpoints hundreds of metres (yards) away to prevent vehicles from approaching, has been hit by Sunni extremists of the Islamic State group several times this year.

A string of IS bombings near the shrine in February left 134 people dead, most of them civilians, according to the Observatory.

And in January, another attack claimed by IS killed 70 people.

Delicate Syria truce takes effect

Lebanese Shia militant group Hezbollah cited the threat to Sayyida Zeinab as a principal reason for its intervention in the civil war on the side of President Bashar al-Assad.

More than 270,000 people have been killed and millions more been forced to flee their homes since the conflict erupted in 2011.
COMMENTS
Comments are moderated and generally will be posted if they are on-topic and not abusive.
For more information, please see our Comments FAQ