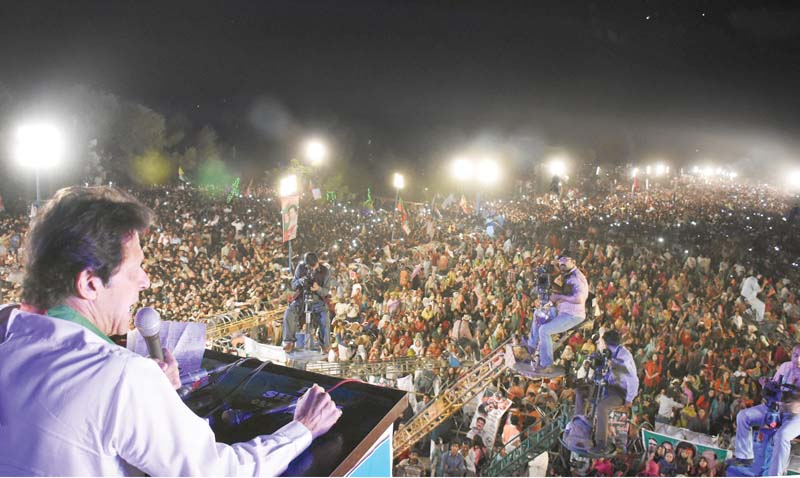 ---
ISLAMABAD:



Pakistan Tehreek-e-Insaf (PTI) Chairman Imran Khan announced on Sunday that his party would launch a countrywide campaign against corruption from April 26 in order to purge the country of "dishonest politicians", among whom he named Prime Minister Nawaz Sharif.




"We are launching a countrywide movement against corruption and will start it from Sindh where we will go on April 26 and will subsequently reach Lahore next Sunday," the PTI chairman said, while addressing a huge rally on the 20th foundation day of the party at the federal capital's F-9 Park.




"Our next plan will be announced in Lahore," he said, in reference to his party's plan of protest against the government in the wake of the Panama Papers leaks. The leaks revealed that Prime Minister Nawaz Sharif's three children were among dozens of influential people who owned offshore companies.

A day earlier, Imran Khan had rejected the inquiry commission announced by the prime minister to probe the scandal as he objected to the commission's terms of reference (ToRs).

"If you [Nawaz Sharif] don't form a fair judicial commission under the chief justice of Pakistan, do not hire an international firm for forensic audit and do not frame its ToRs in consultation with the opposition parties, we will come out on the road and march towards Raiwind," Imran said.

"Mian Sahib [then] you will have to leave," he added.

Many people were expecting that Imran Khan would directly announce a date for the sit-in at Raiwind as the party's next move. However, party sources told The Express Tribune that while he mentioned the sit-in on Sunday, the plan had actually been scrapped following consultation in favour of a countrywide campaign to respond to the PML-N's upcoming rallies with a show of power.

"This is a decisive moment and if we missed the opportunity and do not hold the corrupt accountable then the country will drift towards destruction," said the PTI chairman.

Imran claimed that the prime minister managed to escape accountability despite taking money from the ISI and his alleged involvement in the Lahore Development Authority scandal, Mehran Bank and Hudayabia Papers Mills scandals.

"However, now the Panama Papers have named you and your offspring and this time you will not be able to escape [the consequences]," he said.

Imran mentioned the examples of Iceland and UK where the rulers were being held accountable after the Panama leaks and asked the PM to appear before the parliament for an explanation. "The PM has lost the moral authority," he said.

He accused the premier of launching a smear campaign against his charitable Shaukat Khanum Memorial Cancer Hospital. Criticising the ruling PML-N-led federal government over mega development projects, the PTI chief said children have died of malnutrition in Pakistan but the prime minister was announcing multibillion-rupee Orange Line train project.

Reiterating his allegation of electoral rigging in 2013 general elections, Imran said he wanted Prime Minister Nawaz Sharif to do an audit of four constituencies but he did not pay any heed.

Talking with reference to the murder of a minority lawmaker Soran Singh, Imran laid emphasis on the rights of minorities and asked his supporters to pledge for the protection minorities in Pakistan.

"I am in so much pain since I heard about Soran Singh murder. Soran's wife and children wanted to leave Pakistan for India but he stayed while his family left," Imran added. "We have to grant rights to women. We have to make minorities VIPs; we have to set an example when it comes to safeguarding the rights of minorities."

Published in The Express Tribune, April 25th,  2016.
COMMENTS
Comments are moderated and generally will be posted if they are on-topic and not abusive.
For more information, please see our Comments FAQ