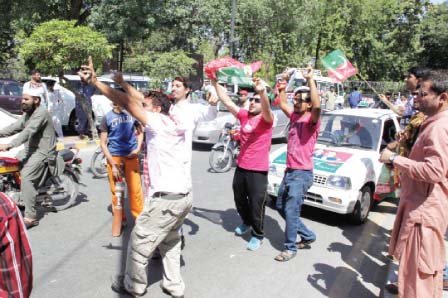 ---
LAHORE: On Sunday, the intra-party election rivalry between Pakistan Tehreek-i-Insaf's Chaudhary Sarwar and Shafqat Mehmood spilled over into the party's mobilisation drive for the Foundation Day event in Islamabad. The two leaders gathered their supporters at different venues before heading to the capital.

Sarwar and Mahmood were contesting for Punjab president before the intra-party elections were postponed in view of the Panama leaks controversy.

Those supporting Mahmood gathered at Nasser Bagh. Supported by Walid Iqbal's Insaf Markaz and former Women Wing president Saloni Bokhari, Mahmood mobilised a decent crowd in Nasser Bagh.

Meanwhile, a larger crowd gathered at Gaddafi Stadium where Sarwar had called his supporters. He was flanked by Jehangir Tareen, Aleem Khan, Ejaz Chaudhry and Leader of Opposition in the Punjab Assembly Mian Mehmoodur Rasheed.

A party official on condition of anonymity said Sarwar had reached out to Mahmood ahead of Foundation Day and had extended an invitation to join him at Gaddafi Stadium but to no avail.

The two groups also opted for separate departure time. Mahmood's convoy left the city an hour before Sarwar's convoy.

PTI women-wing leaders were also divided between the two groups. MPA Nosheen Hamid was seen with Sarwar's convoy while Saloni Bokhari stood with Mahmood. Very few members of the party's youth wing were seen at Sarwar's convoy, as many had joined Mahmood at Nasser Bagh at Walid Iqbal's urging.

Though the Foundation Day destination was the same, both leaders mobilised their supporters in Lahore through separate campaigns, including separate workers' conventions.

On Sunday, banners at both venues carried pictures of their group leaders. The banners displayed at Gaddafi Stadium displayed Sarwar's image with Tareen and Aleem. In Nasser Bagh, Mahmood was pictured with Walid and Shah Mahmood Qureshi.

Talking to The Tribune, Sarwar said he had no differences with Mahmood. "Our destinations are the same - today and in the future," he said.

"It does not matter where the workers gathered when their goal is the same," he said. "We intend to make the event in Islamabad successful," he said.

"The issue is being raised because we were contesting against one another. This is healthy competition," he said.

Talking to The Tribune, Mahmood said there was no dispute between him and Sarwar. "We are competing against one another for the same slot. This happens in politics," he said.

Foundation day: PTI convoy leaves for Islamabad 

Chaudhry Sarwar, Aleem Khan and Jehangir Tareen Khan led the PTI convoy from Gaddafi Stadium while Shafqat Mehmood, Saloni Bokhari and Walid Iqbal led supporters from Nasser Bagh.

The convoys were scheduled to leave the city at 9am but faced some delays. The convoy at Nasser Bagh left at 10:30am while those who had gathered at Gaddafi Stadium left an hour later.

Addressing the gathering at Gaddafi Stadium, Sarwar said, "The PTI will give a new direction to Pakistan's politics in the wake of Panama Leaks."

He said all opposition parties had rejected the commission formed by the prime minister to probe the allegations raised in the Panama Papers.

"The party is planning to launch a movement against corruption. Everyone must be held accountable," he said.

In a statement, PTI's former Punjab president Ejaz Chaudhry said that the party would go to any lengths to ensure justice. "If we have to stage sit-ins in front of the palaces owned by the Sharif family, for this purpose, we will do it," he said. Jehangir Tareen said, "If there is no consensus over the terms of references, the PTI and the people of the country will take to the streets. We will march to Raiwind if need be. We will not rest until we throw out corrupt rulers."

Published in The Express Tribune, April 25th,  2016.
COMMENTS
Comments are moderated and generally will be posted if they are on-topic and not abusive.
For more information, please see our Comments FAQ