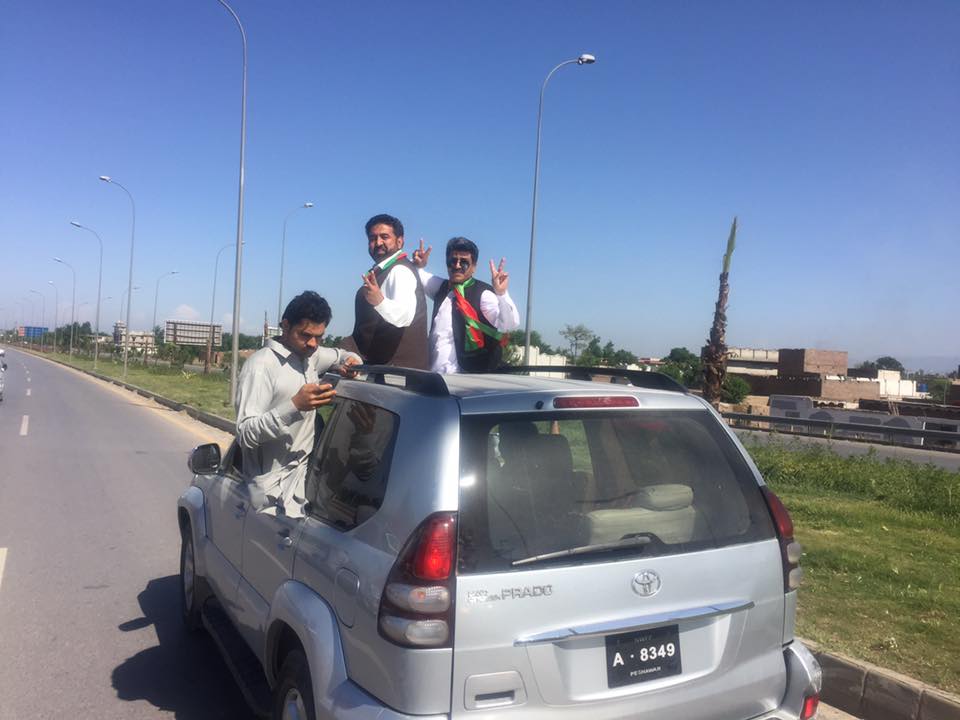 ---
PESHAWAR: Hundreds of Pakistan Tehreek-e-Insaf workers from Khyber-Pakhtunkhwa left for Islamabad on Sunday to join party chief Imran Khan's dharna in the federal capital to celebrate the 20th foundation day of Pakistan Tehreek-e-Insaf.

The PTI caravan, comprising over 250 vehicles, was led by PTI lawmakers Yasin Khalil, Arif Yousaf, Fazal Elahi, Jandad Khan and Shaukat Yousafzai. Members from different union councils and youth wings also joined the caravan.

All workers gathered at Peshawar Interchange where activists from Fata also joined them.

Speaking to The Express Tribune, Khalil said hundreds of PTI workers from Peshawar and Fata gathered at Peshawar Interchange at the Motorway.

He said they hired 250 vehicles from the provincial capital alone and these included coaches, cars and buses. He added the caravan from Mardan district would join them at the Mardan Interchange.

He said the procession would further join the Swabi district caravan led by Minister for Health Shahram Khan Tarakai. He said Chief Minister Pervez Khattak would also join them at the Swabi Interchange.

Khalil said other parties would not be joining them as they were not invited.




Speaking to The Express Tribune, Kashif Ali, a representative of PTI's youth wing, said Imran was the only leader who had raised a voice against corruption in the country.

"We should support our leader against corruption and make this procession successful," he said. Ali added Imran was also the only person who fought for the rights for the voiceless and the oppressed.

"We will ensure the procession is successful in every situation and will follow all the directions of our leader," he said.

Published in The Express Tribune, April 25th,  2016.