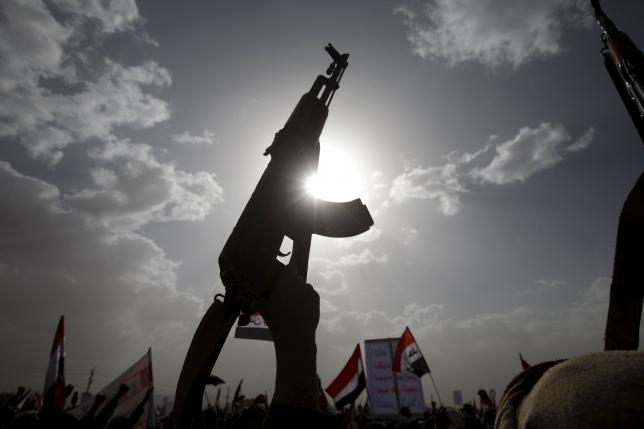 ---
KUWAIT CITY: UN-brokered Yemeni peace talks in Kuwait entered a fourth day Sunday with government and Shiite Houthi rebel delegations still far from reaching an agreement to end 13 months of war.

The delegations resumed "talks and started the plenary session," Charbel Raji, spokesman for the UN envoy Ismail Ould Cheikh Ahmed, told AFP without providing further details.

Yemen peace talks set to resume later Friday

Sources close to the talks said on Saturday that the two sides had failed to reach an understanding on the need to firm up a fragile ceasefire in place since April 11.

Ould Cheikh Ahmed acknowledged the negotiations were difficult but expressed hopes for progress.

"The atmosphere of the talks is promising and there is common ground to build on in order to reconcile differences," the UN envoy said in a statement issued late Saturday.

Saudi-led air strikes kill 10 al Qaeda fighters in Yemen

The delegates had agreed to appoint two officials, one from each side, to make recommendations on how to sustain the ceasefire, he added.

But the two sides differ on priorities for the ceasefire.

The government delegation said overnight that the ceasefire should include opening safe passages to all besieged areas and releasing political prisoners as well as those abducted as part of confidence-building measures.

The Iran-backed Houthis are demanding an immediate halt to air strikes that a Saudi-led coalition has been carrying out since March 2015 in support of President Abedrabbo Mansour Hadi.

"The continuity of air strikes by targeting roads, bridges and homes like what happened yesterday... affirms that the announcement of cessation of military actions is baseless," said Mohamed Abdulsalam, the Houthi spokesman and head of delegation.

Yemen launches southern operation against al Qaeda militants

This meant that "the path of negotiations under aggression will not be different from previous rounds," Abdulsalam wrote on Facebook, in reference to the two failed rounds held in Switzerland late last year.

The two sides also differ on the way to tackle other central issues.

The government wants the discussions to start with the issue of a Houthi pullout from areas including the capital Sanaa and relinquishing heavy arms and missiles.

The Houthis want the political process and the establishment of a national unity government to be first, sources close to the talks told AFP.

The negotiations in Kuwait opened late Thursday after the delayed arrival of representatives of the Houthi rebels and allied forces loyal to ousted president Ali Abdullah Saleh.