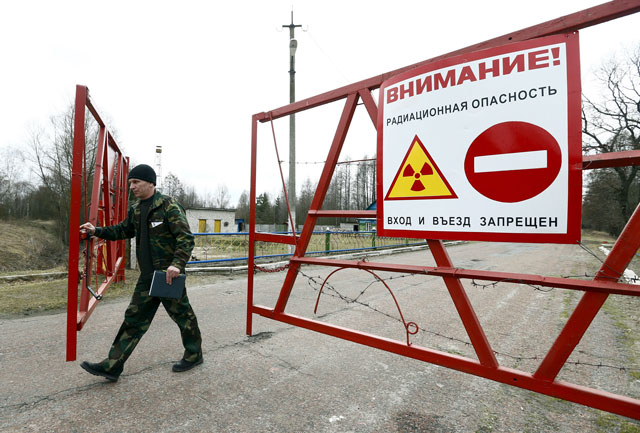 ---
CHERNOBYL, UKRAINE: Some people found life away from home so unbearable they decided to return, even when home was the site of the world's worst nuclear disaster.

Maria Lozbin was one of tens of thousands of people to be evacuated from their homes after the Chernobyl accident in April 1986, but returned with her family six years ago, to live off the land inside a 30 km (19 mile) exclusion zone where the risk of radiation poisoning remains.

Five years on, Japan tsunami scars visible and invisible

A 69-year-old with a ready laugh and a green shawl wrapped round her, Lobzin said the village to which she had been evacuated was full of drunks and drug addicts.




The house into which she was moved was so shoddily constructed, with a huge crack running from the roof to the basement, that she was afraid of being killed or maimed by a falling object. "Living there was like waiting for death," she said.

Now she lives with her son and his family back in Chernobyl, in a zone that can only be reached by crossing a checkpoint and where guides accompany curious tourists with radiation meters.

By contrast, a deathly silence hangs over the nearby abandoned town of Prypyat, where a rusting fairground wheel, and a kindergarten with toys, dolls and small beds are a grim testimony to the scale and speed of the disaster.

Fukushima 'dark tourism' aids remembrance and healing

Lozbin keeps chickens, geese and ducks, grows potatoes and tomatoes, and goes foraging for mushrooms in nearby woods. "There is no radiation here. I'm not afraid of anything," she said. "And when it's time for me to die, it won't happen because of radiation."

Bird song

Tuesday marks the 30th anniversary of the Chernobyl disaster in then-Soviet Ukraine, caused by a botched safety test in the fourth reactor of the atomic plant that sent clouds of nuclear material across much of Europe.

The disaster and the government's handling of it -- the evacuation order only came 36 hours after the accident -- highlighted the shortcomings of the Soviet system with its unaccountable bureaucrats and entrenched culture of secrecy.

Mikhail Gorbachev has since said he considered Chernobyl one of the main nails in the coffin of the Soviet Union which eventually collapsed in 1991. The accident killed 31 right away and forced tens of thousands to flee. The final death toll of those killed by radiation-related illnesses such as cancer is subject to debate.

Rescuers search Japan quake rubble, Toyota to halt production

A Greenpeace report ahead of the anniversary cites a Belarusian study estimating the total cancer deaths from the disaster at 115,000, in contrast to the World Health Organisation's estimate of 9,000.

The Greenpeace study also said people living in the area continue to eat and drink foods with dangerously high radiation levels. In particular, "the 30 km exclusion zone around the Chernobyl reactor remains highly contaminated and unsuitable to live in," it said.

But that matters little to Lozbin, one of around 160 people estimated to have returned to the zone. "What's there to be afraid of?" said Maria's daughter-in-law Oleksandra Lozbin.

"I don't want to go to Kiev. Why would I leave such nature? Where could you hear cuckoos? Where could you hear the nightingale?"

Oleksandra's husband, who grew up in a village 7 km away, started coming to Chernobyl in short bursts starting in 2008 and the family settled back there permanently in 2010.

"My husband had wanted to come back to his homeland all his life," she said. "He came back when it was all closed here, when it was prohibited to come here. He crossed through barbed wire." Oleksandra said police initially tried to force them to leave, but the family refused.

Japan's Kansai Electric finds leaked radioactive water at nuclear plant

Oleksandra hopes to inspire others to move back. To remind people what life was like before the accident, the family has created a makeshift museum in a house across the street with objects collected from nearby abandoned cottages.

There are books, a doll in a cot, a rusty wheel, an abacus, and a black-and-white photo of two people. One day, she hopes, someone might see it and recognize their great-grandparents.

"We decided to save the history of Chernobyl," she said. "We hope that people will come back here and will live here, and their children and grandchildren will see what life was like here, in what kind of cots people were raised here, in what kind of boxes people stored their personal belongings and books."

On a bench lies a Soviet newspaper from Jan. 24 1986, four months before the disaster. The front page headline reads: "No to nuclear testing".