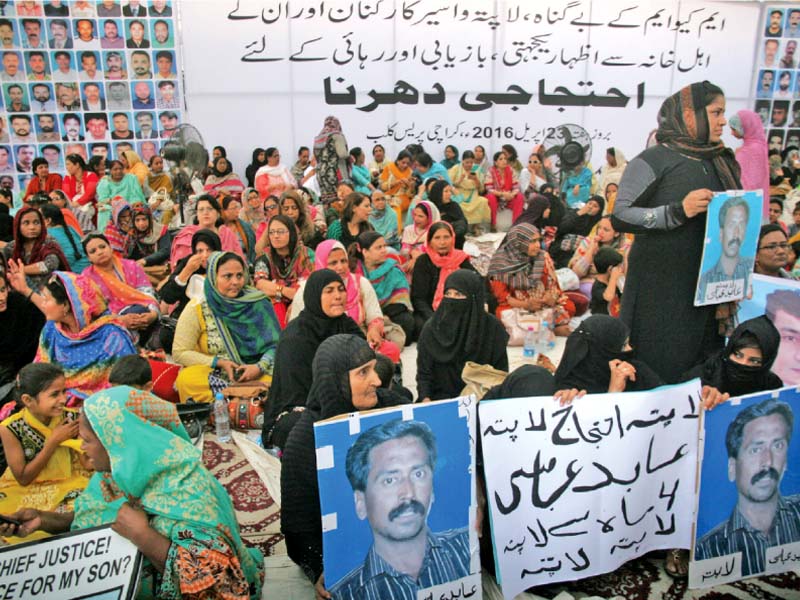 ---
KARACHI: Two years, seven months and several hundred days - this is how long Afsheen's husband, Muhammad Ali, has been missing for, often prompting the distressed woman to have suicidal thoughts.

"At times I just want to make myself and my daughter jump out the window and end this agony. We haven't heard from him in all this time," she said. "No one admits that they have him."

PTI MPA Hafeezuddin joins Mustafa Kamal's Pak Sarzameen Party

In October 2013, Ali, a Muttahida Qaumi Movement (MQM) worker, was getting his motorcycle fixed near the Karachi Central Jail when he was allegedly whisked away by law enforcement agencies along with his two friends. People saw Ali, a junior clerk at Karachi Water and Sewerage Board, being taken away by the law enforcement agencies in a double-cabin van, said the woman.

Afsheen was one of the many women who were sitting in protest outside Karachi Press Club on Saturday afternoon. The group comprised the families of the party's arrested and missing workers. Members of the Rabita Committee and parliamentarians also participated. The party plans to continue the sit-in today as well.

Another MQM MPA joins Mustafa Kamal's party

Families of these 'missing' workers said that they have written several letters to the home department and law enforcement agencies but have received no response. The only response that Afsheen once received was a call by an official who tried to talk to her in an obscene manner and said that then he would be able to make her husband call her if she cooperated but she refused. "Life is difficult. We have no income, no money. Because of my [husband's detention], his mother passed away as she couldn't take the pain."

Stories of other women at the sit-in were similar. They wept and pleaded the authorities share information about their loved ones.

The wife of Abid Abbasi remembered the evening of January 16 this year when they had finished their Asr prayers and the Rangers came and took him away from their apartment in Gulistan-e-Jauhar. "They rang the bell, came in and said that they will let him go after questioning. They also took [our] mobile phones and my son's motorcycle," said Saima. A father of five children, Abbasi was unemployed when he was taken away. A former MQM Karachi Tanzeemi Committee incharge, he was associated with the party's sector in Lyari.

Kamal pulls another MQM dissident into Pak Sarzameen Party

Operation failure

MQM deputy convener MNA Kunwar Naveed said that while the US state department speaks of the operation against the MQM, the government remains silent. According to MQM's Aminul Haque, there has been an increase in raids and arrests of party workers since March 3 - the day when Mustafa Kamal and Anis Kaimkhani returned to the country and announced the formation of Pak Sarzameen Party.

According to the MQM, more than 200 workers have been arrested and 71 have gone missing since March 3. Since the operation in Karachi started in September 2013, 5,000 raids and 4,733 people have been arrested. Of these, 3,508 have been released on bail or acquitted, while 1,001 are still in jail. Since the operation, 165 MQM workers have gone missing, (allegedly picked up law enforcement agencies but not produced in court) while 234 people have died or were found.

Published in The Express Tribune, April 24th, 2016.