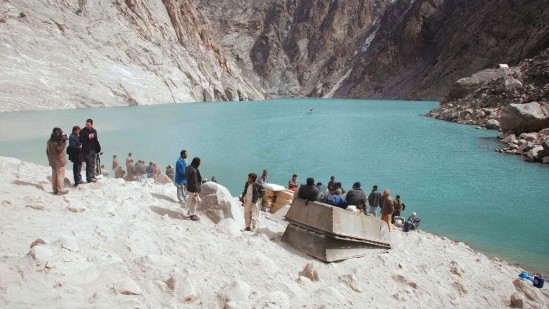 ---
GILGIT: Authorities in Gilgit have finalised a contingency plan in case the artificial lake in the Attabad area bursts its banks, officials said on Monday.

"More than 600 policemen, backed by paramilitary Gilgit Scouts and Rangers, are ready to provide rescue services in case the dam is breached," an official told The Express Tribune. He said the plan was finalised at a high-level meeting held in Gilgit with Chief Minister Mehdi Shah in the chair. The official said the police and paramilitary troops would not only provide rescue and relief activities but would also check possible looting by miscreants in case of any eventuality.

He said downstream villages, right from Attabad in Hunza Valley to Gilgit, have been put under round-the-clock surveillance to ensure that things do not get out of control, if the 13-kilometre long lake bursts banks. "There are remote chances of the lake bursting its banks. However, we are prepared for the worst," officials told The Express Tribune. Chief Minister Mehdi Shah recently visited some lowlying villages of Gilgit to see the situation on ground.

He assured local residents that the government had taken a number of measures to avoid loss to life and property in case of any eventuality. Meanwhile sources said that army engineers were working round-the-clock to create a spillway to ease pressure on the lake. They claimed that there was no immediate threat to the dam. However, residents fear that the dam can burst anytime due to the rapidly rising water level in the lake.

The artificial lake was formed as a result of a massive landslide in January which blocked the flow of the Hunza River. At least 19 people were killed and several villages and hamlets were affected in the tragedy.
COMMENTS (2)
Comments are moderated and generally will be posted if they are on-topic and not abusive.
For more information, please see our Comments FAQ