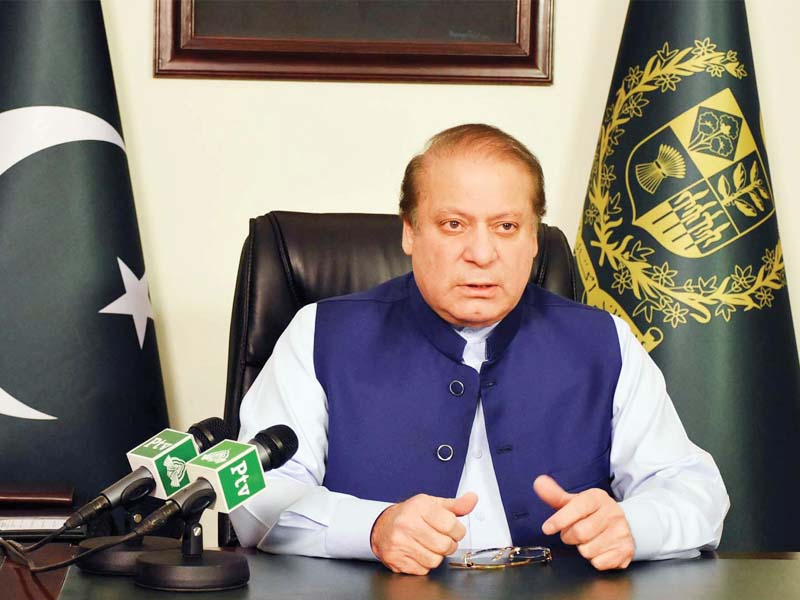 ---
ISLAMABAD:



Succumbing to mounting political pressure for a wide inquiry, Prime Minister Nawaz Sharif presented himself and his family up for accountability after requesting the Supreme Court to form a commission to investigate the Panama Papers scandal.




Almost three weeks after the leaks revealed that the prime minister's three children were among dozens of influential people from across the globe having offshore companies in tax havens, the government sent a letter to the Supreme Court registrar, requesting chief justice of Pakistan to form an inquiry commission under broad-based terms of references (ToRs).

Govt announces 'open-ended' inquiry

"It is requested that the honourable Chief Justice of Pakistan may kindly nominate appropriate number of honourable judges of the Supreme Court as members of the commission, preferably with honourable chief justice himself as its president," read the letter sent to the apex court's registrar by the law ministry.

The move was announced by Premier Nawaz Sharif in his second address to the nation on the matter. In his earlier address, the PM had denied any wrongdoing and offered to form a commission under a former judge – an offer that was rejected by the opposition.

"I once again present myself and my family up for accountability," PM Nawaz said. "The day allegations against me are proved; I will not hesitate for a moment and go home". However, he claimed that the current crisis, whipped up by his opponents, was aimed at creating instability in the country.

"The fascist attitude will cause destruction and bring instability to the country," he said.

Panama Leaks: Nisar renews offer for a 'consensus commission'

Without naming his arch rival and head of the PTI, the prime minister castigated Imran Khan for his actions. He also said he would wholeheartedly accept the recommendations of the commission. "However, those accusing me will have to face the nation and seek its forgiveness if their allegations are proved wrong," he said.

Claiming the ruling PML-N believed in good governance, transparency and an end to corruption, he said even international organisations had acknowledged his party's record of good governance.

"The rule of law, transparent government and moral responsibility are rooted in the supremacy of democracy and Constitution," he said, adding that it was his government that published the tax directory for the first time.

Rejecting all allegations, he said his family had been paying taxes when paying taxes was unfashionable. Nawaz said his family had been made accountable for each and every moment and would be accountable in the future as well.

"These are all 22-year old allegations and all these cases have been probed several times. The former president Pervez Musharraf thoroughly investigated, but failed to find misappropriation of even a penny," he said.

While accepting that he was accountable, the PM said those who were levelling allegations against him and his family were also accountable.

Opposition sees 'victory' in PM's move, rejects ToRs

"Why has no one dared to awaken the Supreme Court when we were exiled? Those claiming to be the embodiment of virtue today, also kept mum, except for very few people, when our businesses and private residence were locked."

In an allusion to the former military ruler General Pervez Musharraf, Nawaz said people should also be held accountable who abrogated the Constitution; asked the Supreme Court judges to take oath at gunpoint; subjected the PML-N workers to torture and falsely implicated him in a hijacking case.

Referring to the PTI's marathon sit-in in Islamabad in 2014 against alleged rigging in 2013 polls, Nawaz said it was unacceptable that those attacking parliament and threatening to drag the prime minister on the streets, were now championing supremacy of the Constitution.

"Those who were making the allegations of rigging and were using foul language by standing on the [shipping] containers, did not have moral courage to seek forgiveness from the nation after the commission's report [cleared us of any wrongdoing]," he said.


Published in The Express Tribune, April 23rd, 2016.
COMMENTS (7)
Comments are moderated and generally will be posted if they are on-topic and not abusive.
For more information, please see our Comments FAQ