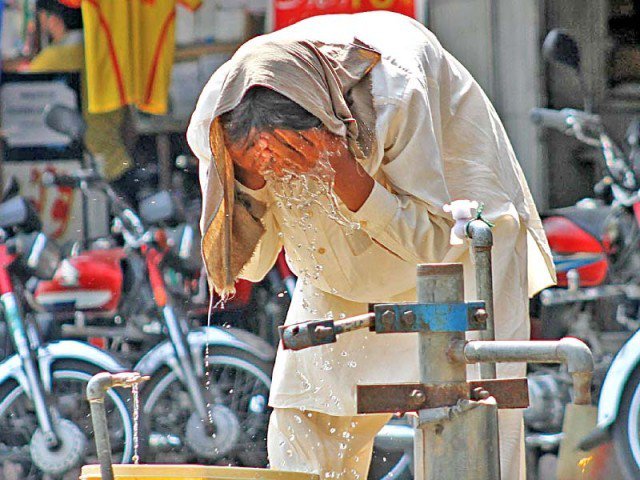 ---
KARACHI: As the world celebrated Earth Day on Friday, Karachi reeled under a sweltering heatwave that started the same day.

The temperature soared up to 38°C on Friday afternoon, remarked Regional Meteorological Centre, Karachi, director Abdul Rashid. "Due to the onset of sea breeze by late afternoon, the temperature dropped a little. This trend will continue till Monday," he said, predicting that the temperatures will remain between 38°C to 40°C in the coming days.

Grave news: Two die allegedly of heatstroke

Global warming

The Indus Delta is already positioned in an intense heat zone and any increase in temperature would impact human health, according to a World Wide Fund for Nature-Pakistan report, titled 'Climate Data and and Modelling Analysis of the Indus Region,' by Dr Ghulam Rasul of Pakistan Meteorological Department.

The report, published in 2012, also states that people are likely to suffer from heat strokes, diarrhea, cholera, vector borne diseases and the area will be struck by frequent floods, cyclones and droughts. The report goes on to say that the region is likely to experience a four degree Centigrade increase in temperature till 2100.

In another study, reports from 56 meteorological stations with long standing as well as continuous records of weather parameters were selected. The research revealed that 1998 was the hottest year in Pakistan, with regards to the national average temperatures.

"Due to failure of summer rains, four-year long drought conditions gripped most parts of the country and the atmosphere did not reclaim its lower temperature. Heat continued to persist due to a loss of vegetation, deforestation, irregular rain cycles and increased frequency/intensity of heat waves," reads the report.

Hot! Hot! Hot!

"There was an exception in 2005 when adequate summer and winter rains kept temperatures within a normal range. Besides this exception, this decade from 2000-2010 has shown an apparently irreversible rise in temperature," states the report.

"The future predictions are also such that the intensity of heat is likely to increase and so is the frequency of heat waves," Rasul told The Express Tribune.

Current situation

Karachi is different from other cities of Sindh in the sense that it has two kinds of temperatures, including air and sea, said University of Karachi environment studies assistant professor Dr Zafar Iqbal Shams. "Areas in the city that have high humidity levels tend to have high sea temperatures," he explained, adding that people in the cities are more vulnerable to extreme weather.

On ways to beat the heat, he remarked that the city simply does not need more trees but those that have canopy to provide shade to people. This includes peepal, banyan, neem, sheesham and copper pod. "These types are already present in city but they should be made widespread," he said.

Beat the heat: Relief centres provide oasis as mercury rises

Conocarpus trees do not help in anyway. "I wouldn't even call them trees as they are shrubs and fail to provide shade," he added. He also suggested that concrete structures should be painted in light colours so that they work as reflectors and absorbers.

Karachi Metropolitan Corporation parks and horticulture director-general, Asadullah Shah, disagreed that conocarpus trees don't provide shade. "They are steady, hard and do provide shade," he said.

During the next plantation drive in the city, the corporation is planning to plant canopy trees including lignum and neem, he added.

Published in The Express Tribune, April 23rd, 2016.
COMMENTS
Comments are moderated and generally will be posted if they are on-topic and not abusive.
For more information, please see our Comments FAQ