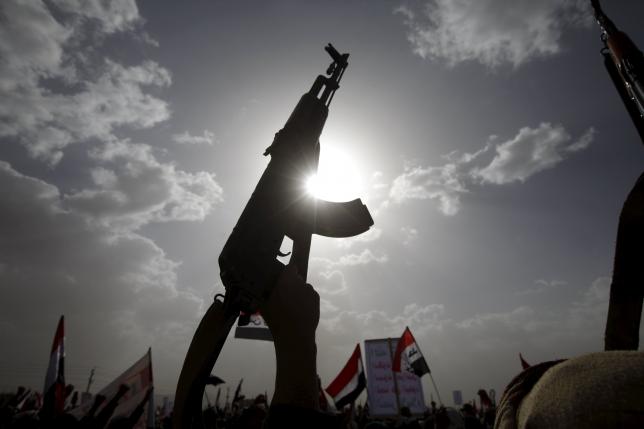 ---
KUWAIT CITY: Delayed peace talks aimed at ending 13 months of conflict in Yemen were set to resume Friday, a day after last-gasp UN mediation efforts finally managed to get warring sides to the same table.

The United Nations hopes negotiations -- which were originally due to begin on Monday -- will put a stop to fighting across Yemen that has killed more than 6,800 people and displaced 2.8 million since March 2015.

UN special envoy Ismail Ould Cheikh Ahmed appealed to both government and rebel delegations in Kuwait to seize the chance, saying Yemen was "closer to peace than any time before".

Yemen rebels say to join delayed peace talks in Kuwait

The rebel delegation from the Shiite Huthi militia and allied representatives of ex-president Ali Abdullah Saleh arrived in the Gulf state late Thursday after receiving assurances from the UN that a ceasefire -- in place since April 11 -- would be respected.

Delegates representing the government of President Abedrabbo Mansour Hadi had threatened to pull out of talks altogether if the rebels weren't around the table by Thursday evening.

The first session ended after less than two hours and the next round will begin Friday afternoon, a delegate told AFP.

Foreign Minister Sheikh Sabah al-Khaled Al-Sabah of host country Kuwait opened Thursday's meeting by hailing the talks as "a historic opportunity" to end the bloodshed.

Yemen peace talks delayed by ongoing combat

"War will only lead to more devastation, losses and displacement of people," he said.

Yemen has been riven by fighting since a Saudi-led coalition launched operations last year against Iran-backed Huthi rebels, who had seized the capital and expanded their presence across central and southern areas.

The violence has allowed jihadists including Al-Qaeda and the Islamic State group to make headway, overrunning parts of south Yemen and establishing a toehold around second city Aden -- the government's temporary base.

Yemen's war has also sent tensions between Shiite Iran and Sunni Gulf states soaring as, like in Syria, they back opposing sides.

Previous UN-sponsored peace efforts failed to make any headway, and the last ceasefire in December was repeatedly violated and eventually abandoned by the Arab coalition on January 2.

But the UN envoy said the latest truce and negotiations offered a unique chance to end the violence.

"Today, you have one of two options; a secure nation that guarantees an honourable life or the ruins of a nation," he told delegates.

The rebel delegation met Ould Cheikh Ahmed after the opening session, their news agency reported late Thursday, and stressed the "need to secure the ceasefire."

The delegation said the "key to reaching a solution is agreeing on a transitional authority," Sabanews.net reported.

Yemen's warring sides signal optimism for Kuwait peace talks

Diplomats say rebels are demanding an end of coalition operations and a naval blockade on Yemen.

They also want UN sanctions against some of their leaders, including Saleh, to be lifted.

UN Security Council Resolution 2216, which is seen as a basis for any peace plan, states that the rebels must withdraw from seized territories and disarm before talks can progress.

But diplomatic sources have said that the rebels are demanding a change to the UN initiative, preferring to first agree on a political leadership for Yemen before making military concessions on the ground.

At the opening session Thursday, Ould Cheikh Ahmed said the UN process "will not necessarily follow a particular sequence."

"Instead, discussions will happen in parallel through working committees that will look into implementation mechanisms of each element, for the sake of reaching one comprehensive agreement that paves the way for a peaceful and orderly transition," he said.

The Huthis, who had long complained of marginalisation, swept from their northern mountain stronghold to take Sanaa unopposed in September 2014, before advanced south, forcing Hadi's government to flee.

While loyalists have since July managed to reclaim large areas, they have been unable to dislodge the rebels from the capital and other key areas -- even with the help of the Saudi-led coalition.

And even though a ceasefire launched earlier this month has dramatically reduced violence, fighting is flaring on several fronts, as each side blames the other for truce breaches.

Clashes raged overnight Thursday on the outskirts of the southwestern Taez city and in the northern Jawf province, military sources said.
COMMENTS
Comments are moderated and generally will be posted if they are on-topic and not abusive.
For more information, please see our Comments FAQ