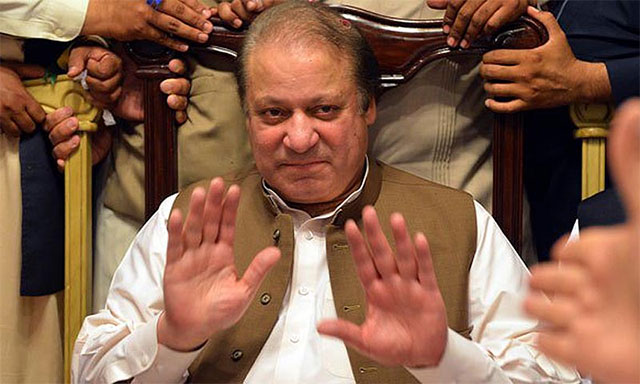 ---
ISLAMABAD:



The Election Commission of Pakistan (ECP) released on Thursday details of parliamentarians' assets and liabilities for the financial year 2014-15.




The ECP had removed details of assets from its website last week, on the pretext that it was no longer a legal need.

Panama Papers: PM, others not served notices

Under Section 42(A) of the Representation of Peoples Act of 1976 and Section 25(A) of the Senate Election Act, it is mandatory for all parliamentarians to declare assets held by them, their spouses and their dependents.

Details submitted by Prime Minister Nawaz Sharif acknowledged that the total assets owned by him were worth Rs1.9 billion while documents showed that his son, Hussain Nawaz, had sent him Rs216 million from abroad. The dossier stated that the PM did not own any property abroad.




The PM also declared that he owned inherited land in Sheikhupura and Lahore with a total worth of Rs1.08 billion.

Govt, opposition MPs trade barbs over offshore assets

The premier also owned cars worth Rs160 million in addition to another property in Lahore valued at Rs250 million. His wife also owned a bungalow in Murree valued at Rs100 million, besides having inherited and gifted shares worth Rs120 million in her name in five sugar, textile and spinning mills. She also owned birds worth Rs2 million and furniture valued at Rs40 million.

PTI's chief Imran Khan had no assets abroad while he declared his Bani Gala residence to be a gift with a total value of Rs750 million. In total, he owned assets valued at Rs1.026 billion in addition to Rs45 million in his bank accounts. His residence in Zaman Park Lahore was valued at Rs220 million and a jeep worth Rs5 million. Khan is also paying installments against a flat worth Rs5.9 million in the under-construction Grand Hyatt hotel on the Constitution Avenue. Khan also owned two cows and a buffalo with a total value of Rs300,000. Khan also mentioned that his former wife Reham Khan's bank account contained Rs5.2 million.

PM's son-in-law Captain (Retd) Safdar owned assets worth over Rs10 million while Hamza Shahbaz's possessions were worth Rs340 million in Pakistan.

Shahid Khaqan Abbasi of the PML-N owned assets valued at Rs1.31 billion, of which his airline — Air Blue Limited -- was worth Rs900 million. He termed it a business venture. Interestingly, his liabilities stood at Rs320 million against mortgages and property.

PM Nawaz forms judicial commission to probe Panama Papers

Chaudhry Nisar Ali Khan has not declared the value of his agricultural property, but said he had cash worth Rs2.8 million in banks. Sheikh Rashid's bank accounts contained Rs4.4 million.

Jamiat Ulema-e-Islam-Fazl chief Maulana Fazlur Rehman owned assets worth just Rs6.8 million but owned no personal car.

Jamshed Dasti, declared to be the poorest parliamentarian, had total assets of Rs2,653.

Opposition Leader in the National Assembly Khurshid Shah had assets worth over Rs40 million.


Published in The Express Tribune, April 22nd, 2016.
COMMENTS (14)
Comments are moderated and generally will be posted if they are on-topic and not abusive.
For more information, please see our Comments FAQ