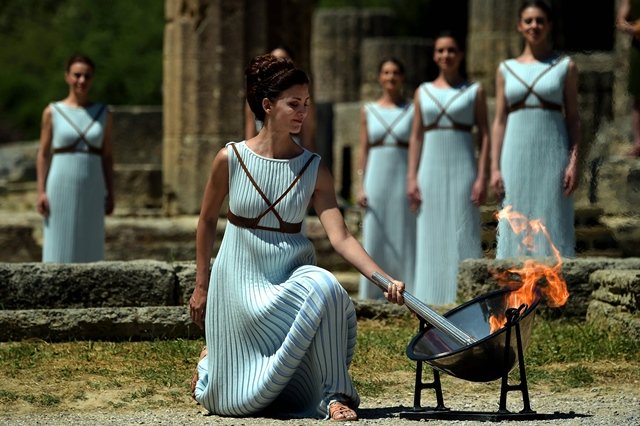 ---
ANCIENT OLYMPIA, GREECE: The Olympic flame for the Rio Games was lit in ancient Olympia in Greece on Thursday, launching the torch relay for the first-ever South American Games that have been overshadowed by Brazil's political crisis.

International Olympic Committee president Thomas Bach said the Rio Games would go ahead "in a world shaken by crises" but added that "these Olympic Games will be a message of hope in troubled times -- and the flame will carry this message into all corners of Brazil, and indeed, all the world."

The four-month Olympic torch relay will cross part of Greece and scores of Brazilian cities before it arrives at Rio's Maracana Stadium for the August 5 Games opening ceremony.

This Muslim figure skater is determined to make history at olympics

Overall, some 12,000 torchbearers will carry the flame through Brazil.

In Greece, in a gesture to the greatest migration crisis facing Europe since World War II, the torch will pass on April 26 through the refugee camp of Eleonas in Athens, where one of the hundreds of refugees housed there will carry the flame.

A UN refugee agency source on Thursday told AFP it will be a Syrian man who lost his leg in the civil war, and has been living and working in Athens after being granted asylum in Greece.

Brazil to launch anti-Zika app for Olympics

The IOC has also announced that a team of up to 10 refugees will take part at the Rio Olympics.

Preparations in Rio have been overshadowed by a government crisis, with President Dilma Rousseff facing impeachment after being accused of juggling government accounts to disguise budget shortfalls during her 2014 reelection.