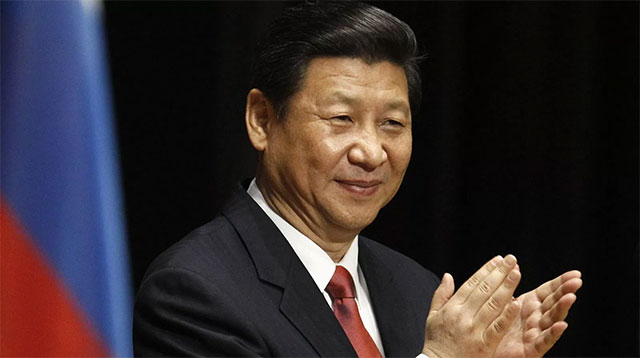 ---
BEIJING: Chinese state media unveiled a new title for President Xi Jinping calling him "commander in chief" of the country's new joint forces battle command centre, as he seeks to consolidate power over the military.

State-run Xinhua news agency and state broadcaster CCTV both carried reports in English and Chinese referring to Xi by the new description for the first time after he visited the command centre on Wednesday.

China exported military drones to 10 nations: report

As well as president, Xi is general secretary of the Communist Party -- the position from which he derives his power -- and also chairman of the Central Military Commission.

Since taking office Xi has sought to increase his authority over the People's Liberation Army, which is technically the armed force of the Communist Party rather than the Chinese state.

Some of its top officers have been among those who have fallen in his much-publicised anti-corruption drive.

The military should be "absolutely loyal", he said during his visit, the official news agency Xinhua reported.

Under Xi, China has taken a more assertive foreign policy stance, rapidly building up artificial islands in the disputed South China Sea and regularly sailing vessels into waters around Japanese-controlled islands in the East China Sea, raising fears of clashes.

The military should be "resourceful in fighting, efficient in commanding and courageous and capable of winning wars", Xi said.

China sets death penalty threshold in graft cases

The joint command system should be efficient and active in both peace and war, Xinhua paraphrased him as adding.

Xi donned fatigues for what appeared to be the first time for the visit, although his garb did not carry any rank insignia. He has generally worn a plain black uniform for formal military occasions such as a giant parade in Beijing last year.

The command centre was established as part of a major reshuffle of China's military structure, which also included the creation of a Rocket Force to operate its missiles.

When the changes were unveiled in January Xi described them as "a major policy decision to realise the Chinese dream of a strong army", state media reported.

Beijing has been building up its military for years, with regular double-digit increases in its official budget.

It has invested in an expanded fleet of submarines and its first indigenous aircraft carrier, as it seeks to build a navy capable of projecting power abroad.

Xi has announced plans to slash China's troop numbers by 300,000 to roughly two million to craft a more efficient fighting force.
COMMENTS (2)
Comments are moderated and generally will be posted if they are on-topic and not abusive.
For more information, please see our Comments FAQ