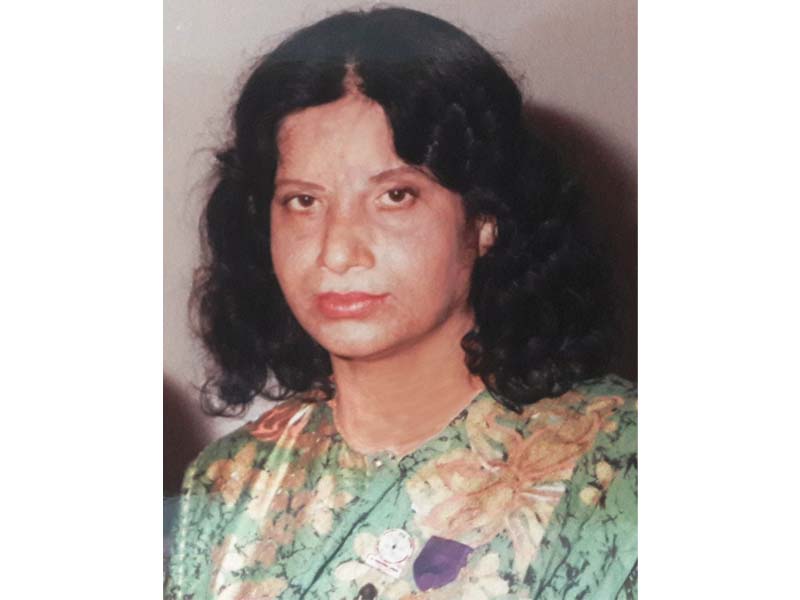 ---
KARACHI: There can hardly be a better and unpretentious tribute to columnist and activist Abeda Iqbal Azad than to find that she is being remembered on her fourth death anniversary by everyone or most of the people in the horizon she breathed with happily, worked hard, smiled radiantly and passed through this world serenely on April 20, 2012.

To commemorate the fourth anniversary of her death, Karachi Press Club's (KPC) literary committee held a discussion on Abeda's work and her life. "Literature is an expression and interpretation of life," said KPC's literary committee secretary Zaib Azkaar Hussain. "The realism of life is exhibited in Abeda Iqbal's literary works as she studied life and possessed enough courage to express it in her creative writings." She was not only a creative talent but a fiery explorer who investigated life through her brain and pen, he added.

Memorial session: Journalists, writers pay tribute to poet Abeda Iqbal Azad

Similarly, the literary forum Moumaslat-e-Asrar held a symposium to mark her anniversary. Urdu scholars, literary critics and journalists highlighted three different aspects of Abeda Iqbal's works comprising short stories, poems and journalistic write-ups that she wrote throughout her career. It was Mumaslaat's second consecutive session to be held in connection with Abeda's anniversary.

Through her writings, it's apparent that she had a strong sense of understanding of Pakistan's cultural multiplicity. Her work has pulled together positive and bright critical attention for giving an exceptional analytic view on Pakistan's politics and culture from the time of Pakistan's 1971 loss of East Pakistan till today. Strikingly, Abeda popularised a typical Abeda fashion and extremely open viewpoints on gender issues with profound perception.

In the early strip of events on Abeda's anniversary, Halqa-e-Arbab-e- Zauq, Karachi, held on April 5 a scholars' ceremony where Urdu literati read out Abeda's works of poetry and prose write-ups and acknowledged her contribution towards Urdu literature and mainstream writing. Speakers in the ceremony paid tribute to Abeda Iqbal and praised her diction, creativity and study that she expressed in her works.

In memorium: Two years on, civil society remembers Abeda Iqbal Azad

"This is quite befitting for Abeda that she, through her short stories, poems and columns put a great impact on Urdu literature," said one speaker. She painted life in words as it appeared to her and her work will be appreciated and acknowledged through future decades."


Some of Abeda's earliest known works involve fictional short stories and adaptations. She wrote both prose and poems on socio-political issues. Her thoughts were contemporary, real and her popular columns and book, Aasman, provide a wide glimpse into the socio-economic and political situation in Pakistan. With her remarkable characterisation, fineness and optimistic outlook, Abeda tackles some of the current affairs, such as Karachi's situation, power-play politics and women's rights. That is why interest in Abeda's work and life remains strong even after four years of her death and will continue to be recharged in the future also.


Published in The Express Tribune, April 21st,  2016.
COMMENTS
Comments are moderated and generally will be posted if they are on-topic and not abusive.
For more information, please see our Comments FAQ