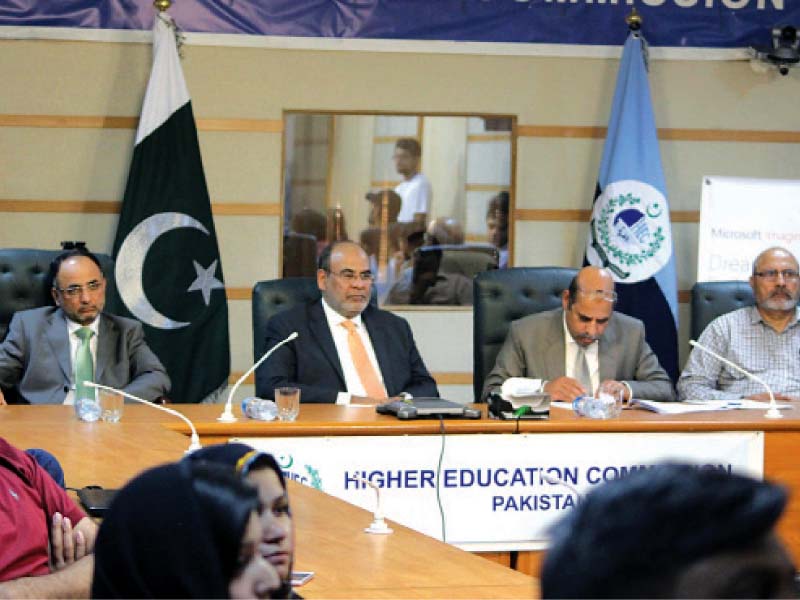 ---
ISLAMABAD:



Bringing together sharpest minds of the country, national final for Imagine Cup hosted by Microsoft was held at the Higher Education Commission (HEC) on Wednesday.




This year, 187 students from Karachi, Lahore, Islamabad, Quetta, Sukkur, Sargodha, Gujranwala, Sahiwal, Faisalabad, Peshawar, Attock, Abbottabad and Rawalpindi participated in the contest with over 100 projects broadly placed under gaming, innovation and world citizenship categories.

Imagine Cup is a global student technology programme and competition that provides opportunities for students across all disciplines to team up and create applications, games and integrate solutions that can change the way we live, work and play.

Microsoft Country Head Nadeem Malik said that the next wave of digital revolution would not come in the west. "Companies will come to countries like Pakistan where there is 62 per cent youth population because youth is innovative, socially integrated and ready to take challenges," he said.

He further said that Microsoft was very proud not only for enabling education sector but also for giving challenges, opportunities and a platform to give ideas and bring them to life. "Imagine Cup is one of those opportunities. Microsoft wants to empower to achieve more and I hope this experience teaches youth to learn and collaborate and reach heights of digitalisation," he added.

Malik also lauded HEC's support for Microsoft and its commitment to promote technology literacy among the youth.

HEC Executive Director Dr Arshad Ali stressed the need for increase in number of projects developed in various parts of the country. He emphasised that both Microsoft and HEC should set targets while evolving ideas followed by a strong strategy for effective materialisation of their ideas. "I could offer a few suggestions. The venue for the national final is not appropriate. It should have been organised in an auditorium so more students could come to gain inspiration. Such events should be marketed very well so they reach all computer science and engineering students across Pakistan," he said.

He further highlighted that students should be trained to present their presentations appropriately to create a better impact.

The contest in innovation category was clinched by Comsats Sahiwal team comprising Nida Karim, Sohaib Hanif and Umairullah. The team from National University of Computer and Emerging Sciences, Faisalabad including Roger Nazir and Usman Khan topped the world citizenship category, while Kasra Zunnayyer from University of Karachi won the gaming competition. The winning teams will participate in world semi-finals to be held online.

Speaking to The Express Tribune, Karim said that the team found out about the contest from their university. "Our final year project supervisor encouraged us to work further on the project and use that in the contest, which we did. This was a learning experience for all of us," she said.

rozgar.work launched

Microsoft along with its implementing partner, World Vision-Pakistan, launched rozgar.work – an employability and entrepreneurship platform. It provides job-seekers with end-to-end career guidance, up-skilling, job-matching and mentorship, all centred on a free online hub that brings the best resources together in a bold attempt to address unemployment and underemployment.

The platform is powered by Microsoft Windows Azure Cloud, SQL, & SharePoint 2013. The Federal Minister for Planning, Development and Reforms Ahsan Iqbal, chief guest at the launch ceremony, said that increased connectivity can transform e-learning and teaching resources, while opening fresh avenues of knowledge for the masses. "We need to invest on our youth, to meet national challenges," he said.

Published in The Express Tribune, April 21st, 2016.