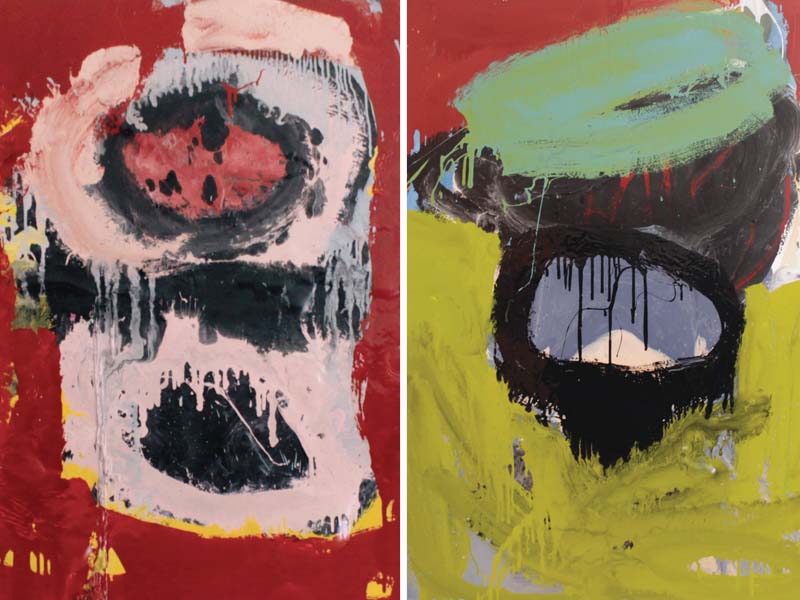 ---
KARACHI: One can't really figure out a concept, theme or even a common thread in artist Abdullah Qureshi's paintings that are on display at Canvas Gallery. There doesn't seem to be any link between the colours or the imagery. It's as mysterious as one can imagine. And this is exactly how the artist aimed it to be.

"I have kept them untitled as I wanted them to be open-ended so the viewer can perceive them according to where they are coming from," said Qureshi, dismissing the idea of a concept or presence of any source of inspiration in his work.

In this particular series of paintings, Qureshi has extensively worked with enamel paint and this has been his source of fascination. "The paper tends to absorb the enamel paint," he said. "When it dries, the outcome of it is that it appears to be wet. It looks fresh and impactful."

Qureshi's work is rigorous and passionate as it can be noticed from the abundant use of the medium. There are no perfect borders, figures or even implied imaging - it's pure abstraction yet seems to have an undercurrent of darkness in it.

The artist has also taken pleasure while painting with the actual paint in large, liquid quantities. "I have been working with different abstract compositions," he said. "I found the enamel very enjoyable." He added that he had started working with this medium in 2009 while it was only oil paints that he worked with previously.

Qureshi has a postgraduate degree in Fine Arts from Chelsea College of Art and Design, University of London. The Lahore-based artist has been showcasing his solo exhibitions in different cities such as Karachi, Lahore and Rawalpindi. He believes in creating environments for people to connect with his work. "I don't limit the interpretations for my viewers," he said. "They can connect with it however they want."

Published in The Express Tribune, April 21st,  2016.