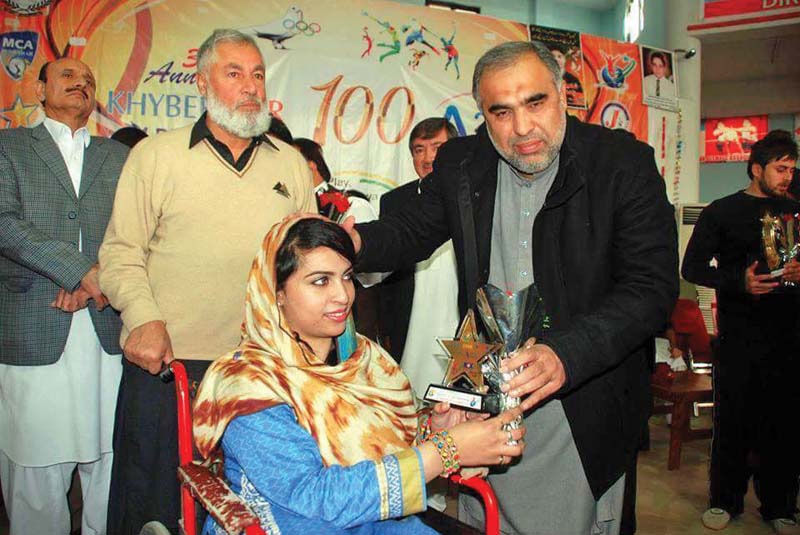 ---
PESHAWAR:



Looking at her awards and trophies with shining eyes, Zainab Barkat sits tight on her wheelchair and smiles. A source of pride not just for her family but for the entire province, the 23-year-old is a passionate table tennis player and started participating in championships at the age of 17, defeating her disability.




Barkat, a resident of Peshawar, fell victim to the crippling poliovirus at the age of one, however, her zeal for the game triumphed. Barkat has managed to bag six trophies and a plethora of certificates at various table tennis competitions for players with disabilities at district and provincial levels.

She dreams of playing in an international arena and is in desperate need of assistance from the government since she fears she may be bedridden forever if she fails to receive treatment – an expense she cannot bear.

Accomplished star

"I love playing many sports but table tennis is my passion," Barkat told The Express Tribune. "I started playing it five years ago when I was living in Rehabilitation Centre for Physically Disabled (RCPD), a non-governmental organisation where girls with disabilities participate in games and sports."




Barkat challenges everyone to play with her since she is sure no one can defeat her at the game. "People think at least once before they compete with me," she said adding, "I participated in various championships and apart from winning 'player of the year,' I won many trophies and certificates."

She is extremely proud of her accomplishments and said even though her brothers are physically fit, they did not bring any award home. "I am the only one whose trophies and certificates are displayed on every wall of the house," she remarked with a smile.

Barkat also has an international diploma in decoration. "I can stitch clothes, I can cook and do everything others can," she said.

Source of strength

Barkat said her family has been extremely helpful and cooperative in her journey. After the death of her father, Barkat's brothers became great supporters of her passion for table tennis. Her brother used to take her in his arms to the table tennis court as it was impossible for her to climb the staircase.

"My family never thought of me as physically disabled; my brother used to carry me to the court since there are no ramps for wheelchairs at stadiums," she told The Express Tribune.

The strength within

"I feel extremely vulnerable when it comes to stairs, even if there are only three to four steps," Barkat said, "No stadiums have ramps and my mobility is restricted because of this."

She said since she belonged to a middle class family, practicing her passion daily was extremely expensive. "I want the government to arrange transport for players with disabilities," she said, adding at least the commute costs should be covered.

Barkat fell prey to the crippling disease at the age of one and underwent three major spine surgeries. Her first operation was 16 hours long where surgeons in Lahore put two rods in her back.

"After a year, they operated on my spine again since screws keeping the rods intact had become loose. Three years after my 2nd operation, the rods broke inside my body and I could not move at all due to the severity of pain," Barkat said. "The doctors have told me my treatment is only possible abroad, otherwise I will not be able to play after a few years," she said. "I am losing the power to sit and after a few years, I will be completely bedridden."

Barkat requested the government to assist her monetarily and send her abroad for treatment. "I want to play at international level and make my country proud but I fear I will not be able to play at all after some time," she worried.

Published in The Express Tribune, April 21st,  2016.