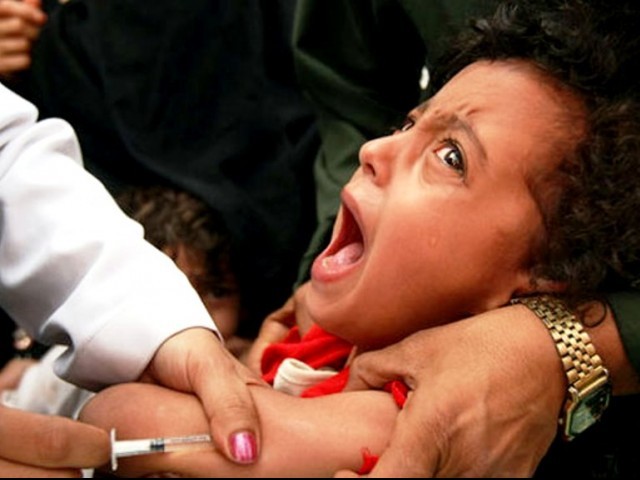 ---
LAHORE:



As many as 27 per cent of deaths of children under five years of age in Pakistan are due to vaccine-preventable diseases, said health experts on Wednesday.




They were speaking at a press briefing arranged by the Pakistan Pediatric Association (PPA) at a hotel. The event had been organised in connection with the World Immunisation Week to highlight the importance of vaccination and immunisation.

The speakers said that a lack of awareness and social and cultural barriers were the main reasons responsible for the trend.

PPA president Tahir Masood said that immunisation was a proven tool for controlling and eliminating life-threatening infectious diseases. "It is one of the most cost-effective health investments. Vaccines protect children by preparing their bodies to fight many potentially deadly diseases," he said.

"They [vaccines] have brought under control many deadly infectious diseases, such as smallpox, polio, measles, diphtheria, pertussis (whooping cough), rubella (German measles), mumps, tetanus and haemophilus influenzae type b (Hib)," he said.

Masood said that immunisation was one of the most successful and cost-effective health interventions and prevented between two and three million deaths every year.

PPA vice president Naeem Zafar said that every year, pneumonia killed an estimated 1.2 million children under the ages of five worldwide, more than AIDS, malaria and tuberculosis combined. "Rotavirus gastroenteritis is estimated to cause more than half a million children's deaths. Two billion people have been infected with hepatitis B virus. All these can be prevented through vaccination and immunisation," he said.

Zafar said that globally, 17 percent of deaths in children under the ages of five were due to vaccine-preventable diseases.

"Without vaccines, epidemics of many preventable diseases can return, resulting in increased and unnecessary illness, disability and death," he said.

PPA Punjab president Dr Asif Kaleem Sheikh said that there had been a 75 per cent decline in deaths because of measles between 2000 and 2013 worldwide due to vaccination.

"Illnesses and complications caused by influenza can be reduced by up to 60 per cent and deaths by 80 per cent in elderly patients through vaccines. Polio cases have been reduced by 99 per cent due to vaccination. In 1988, there were over 300,000 cases of polio. Smallpox has also been eradicated globally in a time span of 10 years," he said.

PPA Punjab general secretary Haroon Hamid said that parents needed to be educated about the importance of vaccination. "We should persuade them to bring their children to the nearest EPI centres. Despite the availability of free vaccines, coverage is very low. The mass media can help raise awareness about these deadly diseases," he said.

Published in The Express Tribune, April 21st, 2016.
COMMENTS
Comments are moderated and generally will be posted if they are on-topic and not abusive.
For more information, please see our Comments FAQ