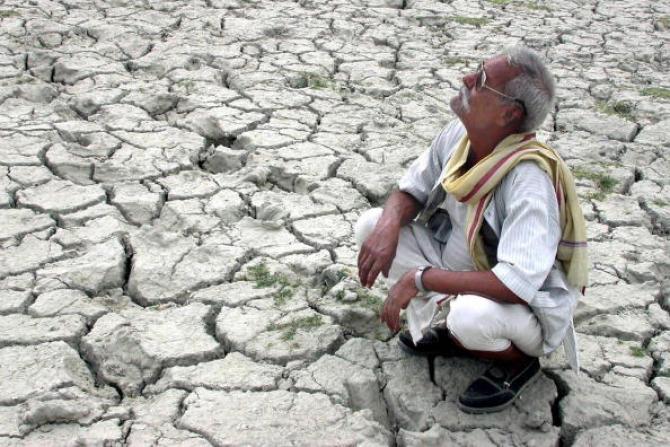 ---
NEW DELHI: About 330 million people are suffering from drought in India, the government has said, as the country reels from severe water shortages and desperately poor farmers suffer crop losses.

One of the government's most senior lawyers PS Narasimha told the Supreme Court that a quarter of the country's population, spread across 10 states, have been hit by drought after two consecutive years of weak monsoons.

Narasimha said the government had released funds to affected regions where a crippling shortage of rainfall has forced the rationing of drinking water to some communities.

'Drought-Hit' Tharparkar: Free wheat distribution soon: govt

As summer hits India, reports of families and farmers in remote villages walking long distances to find water after their wells dried up have dominated local media.

Narasimha gave the figures on Tuesday, after an NGO filed a petition asking the top court to order Prime Minister Narendra Modi's government to step up relief to the hardest-hit areas.

The figures come as high temperatures hit parts of eastern, central and southern India in recent weeks, with scores of deaths reported from heatstroke.

Hundreds of mainly poor people die at the height of summer annually in India, but temperatures have risen earlier than normal, increasing concerns about this year's overall toll.

'Thar only makes the news when there's drought and deaths'

"We had never recorded such high temperatures in these months in more than 100 years," special relief commissioner in Orissa state P.K. Mohapatra told AFP.

India's meteorological department on Wednesday issued a heatwave warning for Orissa and two other states, with temperatures forecast to top 45 degrees (113 degrees Fahrenheit) in the coming days.

All schools in Orissa are closed until next week because of the heat, while protests have been held further north in a West Bengal city over water shortages.

"Several hundred residents of the city of Howrah on Monday blocked an arterial road to protest inadequate supply of water," said Baren Das, an official from Howrah's municipal corporation.

Balochistan Downpour: Rain brings joy in plains, woes in cities

Politicians have come under fire for water wastage as they travel to drought-affected regions, with footage on Tuesday of water tankers in Karnataka state spraying a dusty road ahead of the chief minister's arrival, sparking outrage.

A court this month ordered the Indian Premier League to move some cricket matches from drought-hit western Maharashtra state over concerns that water would be wasted in maintaining the grounds.

Officials have forecast an above-average monsoon this year, offering hope for struggling farmers who rely heavily on the annual rains. India's agriculture sector employs about 60 percent of the population.