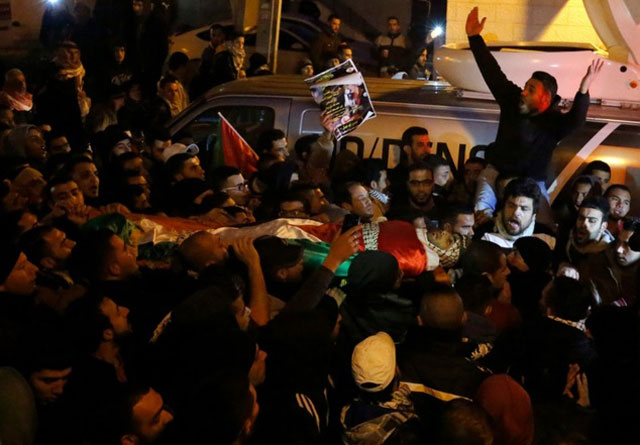 ---
QALANDIA: Israeli forces destroyed the home of a Palestinian assailant who stabbed a woman to death in January before being shot dead by a security guard, the army said on Wednesday.

The demolition provoked clashes between Israeli soldiers and Palestinians at the Qalandia refugee camp in the occupied West Bank, Palestinian media reported.

Israeli convicted of Palestinian murder that helped trigger 2014 war

Israeli media reported two soldiers lightly wounded. Israel's military had not responded to requests for information on the reported clashes.

It was the latest such demolition carried out by Israel as a deterrent, but which human rights groups say amounts to collective punishment.

The demolition occurred overnight at the apartment of Hussein Abu Ghosh in Qalandia, near Ramallah, with the walls inside destroyed.

Residents told an AFP journalist that Abu Ghosh's family left the apartment about a month ago. 

The January 25 attack saw Abu Ghosh, 17, and another Palestinian, Ibrahim Allan, 23, stab two women in the West Bank settlement of Beit Horon, northwest of Jerusalem.

One of the women, Shlomit Krigman, 24, later died from her wounds. Both of the assailants were killed by the security guard.

Krigman was stabbed near her home while the other woman was attacked outside a grocery store.

Israeli authorities also said at the time that they had found and defused three pipe bombs the two had thrown at the grocery store.

The attack was part of a wave of violence that erupted in October and which has killed 201 Palestinians and 28 Israelis.

Israel says finds tunnel from Gaza into Israeli territory

Most of the Palestinians killed were carrying out knife, gun or car-ramming attacks, according to Israeli authorities.

Israeli Prime Minister Benjamin Netanyahu has ramped up demolitions of attackers' homes in a bid to halt the unrest.

The level of violence has steadily declined in recent weeks, though a bomb explosion on a Jerusalem bus on Monday raised fears of another surge ahead of the Jewish Passover holiday, which begins on Friday evening.