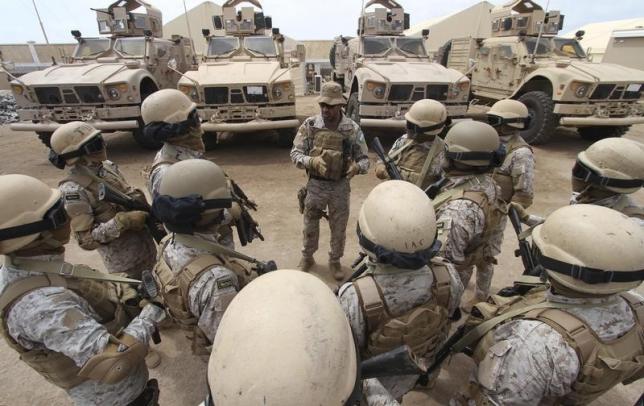 ---
RIYADH/WASHINGTON: Six years ago, Saudi and American officials agreed on a record $60 billion arms deal. The United States would sell scores of F-15 fighters, Apache attack helicopters and other advanced weaponry to the oil-rich kingdom.

The arms, both sides hoped, would fortify the Saudis against their aggressive arch-rival in the region, Iran.

But as President Barack Obama makes his final visit to Riyadh this week, Saudi Arabia's military capabilities remain a work in progress - and the gap in perceptions between Washington and Riyadh has widened dramatically.

The biggest stumble has come in Yemen.

Frustrated by Obama's nuclear deal with Iran and the US pullback from the region, Riyadh launched an Arab military intervention last year to confront perceived Iranian expansionism in its southern neighbour.

The conflict pits a coalition of Arab and Muslim nations led by the Saudis against Houthi rebels allied to Iran and forces loyal to a former Yemeni president.

A tentative ceasefire is holding as the United Nations prepares for peace talks in Kuwait, proof, the Saudis say, of the intervention's success.

But while Saudi Arabia has the third-largest defence budget in the world behind the United States and China, its military performance in Yemen has been mixed, current and former US officials said.

Yemen police say foil two bomb attacks day before peace talks

The kingdom's armed forces have often appeared unprepared and prone to mistakes. UN investigators say that air strikes by the Saudi-led coalition are responsible for two thirds of the 3,200 civilians who have died in Yemen, or approximately 2,000 deaths.

They said that Saudi forces have killed twice as many civilians as other forces in Yemen. On the ground, Saudi-led forces have often struggled to achieve their goals, making slow headway in areas where support for Iran-allied Houthi rebels runs strong.

And along the Saudi border, the Houthis and allied forces loyal to former Yemeni president Ali Abdullah Saleh have attacked almost daily since July, killing hundreds of Saudi troops.

Instead of being the centrepiece of a more assertive Saudi regional strategy, the Yemen intervention has called into question Riyadh's military influence, said one former senior Obama administration official.

"There's a long way to go. Efforts to create an effective pan-Arab military force have been disappointing."

Behind the scenes, the West has been enmeshed in the conflict. Between 50 and 60 US military personnel have provided coordination and support to the Saudi-led coalition, a US official told Reuters. And six to 10 Americans have worked directly inside the Saudi air operations centre in Riyadh.

Britain and France, Riyadh's other main defence suppliers, have also provided military assistance. Last year, the Obama administration had the US military send precision-guided munitions from its own stocks to replenish dwindling Saudi-led coalition supplies, a source close to the Saudi government said.

Administration officials argued that even more Yemeni civilians would die if the Saudis had to use bombs with less precise guidance systems. Saudi officials see the intervention as a qualified success, halting Iranian expansionism in Yemen and bringing their opponents to the negotiating table.

They compare it to the 1991 Gulf War when a military threat was addressed overwhelmingly by military power.  They said Saudi-led forces have stabilised large parts of the country and allowed its government under President Abd-Rabbu Mansour Hadi to remain viable.

They also dispute the number of civilian deaths and have announced investigations into the strikes. Among many of their fellow Gulf Arabs, who believe they face a broader struggle against Iran, the war continues to be popular.

At a forum in Riyadh this week the mostly young audience started to cheer when speakers said the campaign had demonstrated a new self reliance.

Yemen peace talks delayed by ongoing combat

Spokesman for the Saudi-led Arab coalition, Brigadier General Ahmed al-Asseri, said the main goal of degrading Houthi capabilities had been achieved.

Coalition-backed Yemeni forces had paused after taking ground north of Sanaa at the request of the UN and to encourage talks, he said.

Prince Sultan bin Khaled al Faisal, a former Saudi special forces officer and now a senior fellow at the King Faisal Center for Research and Islamic Studies in Riyadh, said the intervention had succeeded.

"You cannot say there is no progress," he said. "The enemy is on the back foot. They are surrounded in every single city that they are in  and they are blockaded from the sea."

SELLING STUFF

The United States has been helping equip and train Saudi armed forces since US President Franklin Roosevelt and Saudi King Abdulaziz Al Saud struck an oil-for-security alliance in 1945.

"Our tanks are American. Our infantry vehicles are American. Our jet fighters are American,"  said Asseri, the Saudi general.

"Our command and control system is American so having these people working with us is normal." Some of the largest beneficiaries of the alliance have been US defence contractors.

Vinnell Arabia, now a Northrop Grumman subsidiary, has received multimillion-dollar contracts to train Saudi Arabia's National Guard since 1975, for instance, including a five-year contract worth up to $550 million in 2010.

In an effort to counter Iran, US arms sales grew under President George W Bush administration and even more under the Obama White House.

Yemen's warring sides signal optimism for Kuwait peace talks

The primary goal of the huge 2010 sale was to defend against Iran, according to both American and Saudi officials.

The Obama administration also saw a chance to turn Saudi Arabia into a regional military power that could act as a stabilizing influence in the Middle East. Saudis emphasise their own interests rather than those of the United States.

"Saudi Arabia chooses and buys its weapons according to its own strategic planning, needs and interests, not those of anyone else," said Prince Sultan. "The whole premise that we bought weapons to play a role for someone else is false."

Whatever the motivation, between 2009 and 2015, IHS Jane's estimates that General Dynamics delivered $5 billion worth of weaponry to Saudi Arabia, Boeing $2.9 billion and Raytheon $2.5 billion.

European defence contractors profited, as well with Eurofighter, a European consortium, delivering $5.6 billion in arms to Saudi Arabia and UK-based BAE Systems delivering $2.9 billion during the same period, according to Jane's estimates.

Current and former US officials said one of the reasons arms sales to Saudi Arabia had faced little opposition in Washington was the deal's failure might have resulted in Saudi Arabia buying arms from Russia or China.

They also said the sales boosted US defence contractors as the Obama administration cut military spending in Iraq and Afghanistan. "We sold them that stuff," said one US official, "because that's what creates jobs in America."

ADVANCING STEP BY STEP?

Even with more weaponry, the Saudi-led coalition has struggled in Yemen. That's been apparent in its bombing campaign from the start.

"Initially there was far too much reliance on the [Riyadh-backed] Yemeni government for intelligence and far too little effort to confirm it," said a Saudi with knowledge of the campaign.

He said targeting rules had improved in the second half of last year. But Brigadier General Samir Haj, a Yemeni and the official spokesman for the government's military forces, told Reuters that the coalition has "joint military operations rooms in Aden and Riyadh which work together with the coalition countries to coordinate targets for both air strikes and battle operations on the ground."

Suicide bomber kills 4 Yemen troops near Aden airport

Problems with targeting are particularly embarrassing because they were also issues during the border war between Saudi Arabia and the Houthis in 2009-2010, US embassy cables released by WikiLeaks show.

A cable dated February 7, 2010 noted one instance in which Saudi jets aborted an air strike on a target supplied by the Yemeni government because it turned out to be the headquarters of a senior general and rival of then president Saleh.

Six years on, errors are still occurring. Just last month, two American-made laser-guided bombs struck a market and killed at least 97 civilians, 25 of them children, along with 10 Houthi fighters, according to Human Rights Watch investigators who reached the site of the bombing.

UN investigators who reached the site reported 96 civilian dead, including 24 children. Asseri said the coordinates had been provided by coalition-backed Yemeni forces fighting in that area, and the bombs had struck a gathering of Houthis, not civilians.

US officials said the United States does not provide detailed targeting information to the Saudis in Yemen. "We're giving them broad intelligence of the area," said a third US official, who spoke on condition of anonymity.

American officials said they have repeatedly tried to find ways to improve Saudi targeting. As well as the extra precision-guided bombs, the Pentagon sent US military lawyers to train their Saudi counterparts on how to ensure the legality of coalition strikes.

They say the Saudis have American software designed to help them determine whether certain munitions might cause destruction beyond the target.

Matthew Spence, who served as the Obama administration's Deputy Assistant Secretary of Defence for the Middle East from 2012 to 2015, said it takes time for any country to learn how to use advanced weapons systems.

"It's going to be an imperfect process that advances step by step," Spence said. Michael Knights, an expert on the conflict in Yemen at the Washington Institute for Near East Policy, said the fact that the Saudi military had been able to maintain a year-long intervention in a country as complex as Yemen has surprised some observers.

"They're able to maintain operational tempo for a year," Knights said. "These are things that if you'd asked somebody about this two years ago, they would say there's no way Saudi can do that." But investigations by the UN, Human Rights Watch exposed scores of Saudi missteps.

A January report by a UN Security Council panel of experts found that the Saudi-led coalition had carried out attacks that appeared to violate international humanitarian law 152 times, including 41 strikes on residential neighbourhoods, 22 on medical facilities and 10 on marketplaces. UN investigators also found at least 38 violations by Houthi and Saleh forces.

The Saudis "are dropping bombs with a large payload on a house in the middle of a residential neighbourhood," said Belkis Wille, Human Rights Watch's Yemen researcher, who just spent three weeks in the country investigating civilian deaths.

"If you do that, you are bound to cause collateral damage. Using these kinds of bombs in this context is indiscriminate." Asseri, the Saudi-led coalition spokesman, has repeatedly questioned such investigations, saying they are often carried out remotely or with guidance from locals employed by the Houthis, and that they have made little effort to engage with the coalition or Yemen's government.

Obama visits Saudi Arabia amid tensions with historic ally

UN officials said they have a team of 19 investigators stationed inside Yemen who visit the sites of attacks on their own.

They said the team members, both foreigners and Yemeni nationals, follow a thorough methodology that UN human rights investigators use worldwide and are not taken to sites by Houthis.

"We collect our information direct from the scene of incidents and from witnesses and victims," said Rupert Colville, spokesman for the Office of the United Nations High Commissioner for Human Rights. "We are careful to avoid manipulation by any of the warring parties."

Asseri said the Saudi air force uses the same procedures as those of the US air force to assess targets, and checks information against images from drones and a no-hit list. He said munitions were selected to avoid causing harm beyond the selected target.

US officials said they have urged the Saudi-led coalition to better distinguish between military targets and civilians. Asseri said a Saudi colonel with a doctorate in law has been appointed to run an investigative commission into civilian deaths and is now selecting members.

BORDER PROBLEMS

One of the stated goals of the Saudi-led campaign was to protect the kingdom's borders. In many ways, though, the war has made them less secure. The mountainous western stretch of the Yemeni border, which runs from the Red Sea to the Empty Quarter desert, is rife with smuggling and illicit crossings.

The Houthis had not attacked Saudi Arabia along the frontier since 2010. Beginning in July 2015, though, when the coalition regained complete control of Aden after three months of brutal street fighting and airstrikes, the Houthis and Saleh's forces began to launch near daily attacks across the border.

The assaults have killed and injured around 400 civilians inside Saudi Arabia, the coalition said. Diplomats say around 400 Saudi soldiers and border guards have died.

The coalition said it will not release figures on the number of military casualties until after the campaign, though Asseri did not dispute the broad number.

The rugged border areas held by the Houthis – steep mountains scattered with boulders and pitted by gullies and deep, scrubby valleys - are ideal for guerrilla warfare.

Saudi officials said they had been hampered by the decision not to take territory inside Yemen, which they feared would feed Houthi propaganda that Riyadh's war goals were territorial.

"It is the most difficult thing to conduct a static defence," said Asseri. Between July 2015 and the beginning of the tentative truce last month, an average of 130 mortars, shells and rockets were fired at Saudi Arabia's frontier every day, the coalition said.

The Houthis and their allies also staged frequent incursions, overrunning villages, pushing several kilometers into Saudi territory and laying large numbers of explosive devices, according to both Western and Saudi officials.

Houthi-aligned media have posted dozens of video clips showing Yemeni fighters in Saudi territory or attacking Saudi targets. In February, the Houthi-aligned al-Masirah television station, which broadcasts from Lebanon, reported on daily attacks along the border, often accompanied by video or photographs.

It listed sniper killings of Saudi soldiers, mortar and anti-tank rocket attacks on Saudi border posts and military vehicles, ambushes, infiltrations and guerrilla raids.

The Saudis have evacuated around a dozen villages, shuttered hundreds of schools in the region and closed the airport of Najran, a provincial capital that lies a few kilometers from the border.

Riyadh concedes it underestimated the number of Houthi ballistic missiles. Days into the conflict, Asseri said the Houthis' ability to fire rockets at Saudi Arabia had been neutralised. But the Houthis continued to fire Scuds at the kingdom until well into 2016.

Asseri said the Houthis hid weapons in schools and evacuated embassies. Riyadh believes Iran sent weapons to Yemen by plane before the war and by ship afterwards, he said.

Houthis have denied that. Riyadh used to enjoy an extensive network of patronage and influence in Yemen that gave it an unrivalled understanding of the workings of its complex neighbour.

But those networks were run by the late Prince Sultan bin Abdulaziz, a veteran defence minister, and deteriorated as his own health began to fail just over a decade ago.

The Saudi with knowledge of the campaign said the performance of the army had been patchy and varied greatly from one unit to another.

He and other Saudi and Western officials said the kingdom's forces on the border have been hampered by their lack of battlefield surveillance technology, which meant they were often unable to watch threats emerge in real time.

Riyadh has partly addressed that by buying drones from China, Western and Saudi officials said. As well, the Royal Saudi Land Forces, which were trained for desert warfare, are beefing up their mountain training, first started after the 2009-10 war.

EXPEDITIONARY FORCE

A few days before operations began in Yemen last year, Riyadh tried to bring together a broad Muslim military alliance. But none of its most powerful Muslim allies - Egypt, Pakistan or Turkey - ended up taking leading roles.

Asseri said Riyadh never requested big numbers of ground troops from them, believing that a large-scale land operation would be counterproductive. Turkey chose not to participate from the start.

Pakistan's parliament voted to remain neutral, but only after its flag had been displayed alongside those of other coalition countries. It later committed a ship to help enforce a partial blockade, Asseri said.

And Egypt eventually committed a naval expedition to the coalition. That left Saudi Arabia itself to produce ground forces along with several thousand troops from other Gulf neighbours, principally the United Arab Emirates.

Morocco carried out airstrikes and Sudan committed two companies of troops late in the war. Saudi Arabia decided to entrust ground operations inside Yemen to local fighters backed by Gulf Special Forces and air strikes.

But many of these fighters were untrained and disorganised. Asseri said that as the war has progressed they have been organised into a more coherent army. The lack of a professional ground operation hurt, say military experts.

Asseri said using a large foreign army would have created the impression of an invading force and encouraged militant attacks.

He pointed to the recapture of Aden in July as evidence that only small numbers of foreign troops were needed for specific operations. But the inexperience has shown in incidents such as a Houthi rocket strike in September in Marib.

A senior Saudi officer told Reuters forces in Marib had been positioned too close together and near a munitions store, causing a high number of deaths.

Asseri acknowledged that procedures had not been followed in Marib. "This is their first fight," he said. "You learn the hard way."