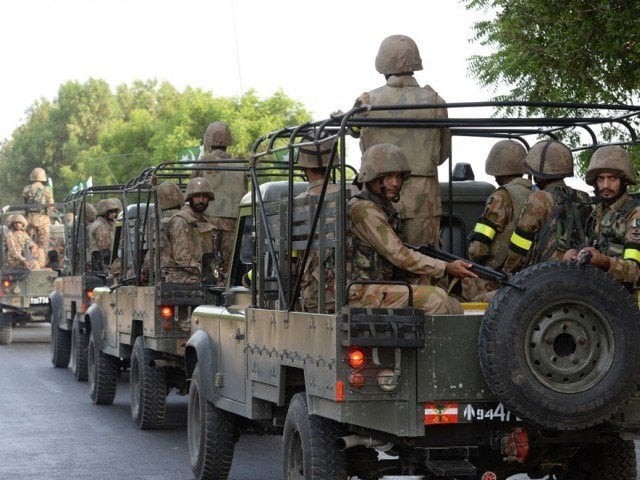 ---
RAJANPUR:



The ringleader of a notorious criminal gang reportedly surrendered late Tuesday night along with 175 comrades, bringing to a non-violent end a 21-day-long operation in the riverine area of Rajanpur district of South Punjab.




The gang of Ghulam Rasool, alias Chottu, also released 24 policemen seized a week ago when the Punjab police had made an unsuccessful attempt to storm the island hideout of criminals in Kacha Jamal area, sources told The Express Tribune.

Army helicopters strike Chotu gang in full-scale Rajanpur offensive

They said that Chottu agreed to turn himself in as the military was preparing to launch an assault against his gang holed up in the island.

The army took command of the operation, codenamed Zarb-e-Aahan, on April 15 in an effort to rescue the 24 policemen abducted by the Chutto gang a week ago. Negotiations between the authorities and the gangsters had been ongoing since the hostage-taking.

While helicopter gunships continued to target hideouts of the Chottu gang in Kacha Jamal on Tuesday, ground troops did not use heavy weaponry for the safety of the kidnapped policemen.

The military had launched a full-fledged assault using helicopter gunships, surveillance drones and heavy artillery with unconfirmed reports also suggesting movement of tanks in Kacha Jamal, Shahwali and Sonmiani areas.

Police fighting Chotu gang with great courage, says Shahbaz




A member of the Chottu gang was arrested in the day when four bandits tried to escape the island. However, three of them managed to run back into the riverine forest. The arrested gangster, identified as Ramzan Machhi, a resident of Chak Umrani, was shifted to an undisclosed location for interrogation.

Sources said the gang had been using the kidnapped policemen, and women and children as a human shield during the operation, forcing the military not to take decisive action. The bombproof tanks transported to the island had been held back.

Army helicopters, on the instructions of the interior ministry, dropped pamphlets asking the criminals to surrender, offering them leniency along with a last warning to the gangsters.

Sources in the irrigation department told The Express Tribune that authorities were trying to control the flow of water at Taunsa Barrage to help the military reach Chottu gang's hideouts.

Meanwhile, the Punjab government issued names of 96 criminals associated with the Chottu gang, setting up to Rs2 million bounties on the heads of some of them.

Half of Rajanpur's riverine area cleared

The list includes many facilitators of Chottu from Dera Ghazi Khan, Rajanpur and Muzaffargarh districts.

The interior ministry has also summoned the case records of these criminals from the relevant police stations across the province.


Published in The Express Tribune, April 20th, 2016.